Use These Aesthetic Indoor Plants To Create A Beautiful Room
If you are looking to level up your interior design, consider adding aesthetic indoor plants to your bed rooms, kitchen and entryway.
Elevate your home decor with beautiful plants that brighten up your living spaces, add visual interest, and keep the air clean. The good news: you do not have to have a green thumb to grow plants indoors.
There are many low-maintenance plants that will elevate the decor of a room.
23 Popular Indoor Aesthetic Plants For Your Room
Plants are a great way to provide living comfort to your space, and many are easy to care for. Let's take your home decor to the next level with these plants that upgrade the aesthetic of your living room, home office, or bedroom!
These are some of the BEST indoor aesthetic plants to include in your home decorating. Choose a few of these unique plants to cozy up to!
Dracaena (Corn Plant)
Bright and beautiful with variegated green and yellow leaves, Corn Plant is an vibrant aesthetic plant that adds height, dimension and interest to any room. These indoor plants grow slowly and eventually look like palm trees. They love bright, indirect light and high humidity.
Style: fun + funky, tall and vibrant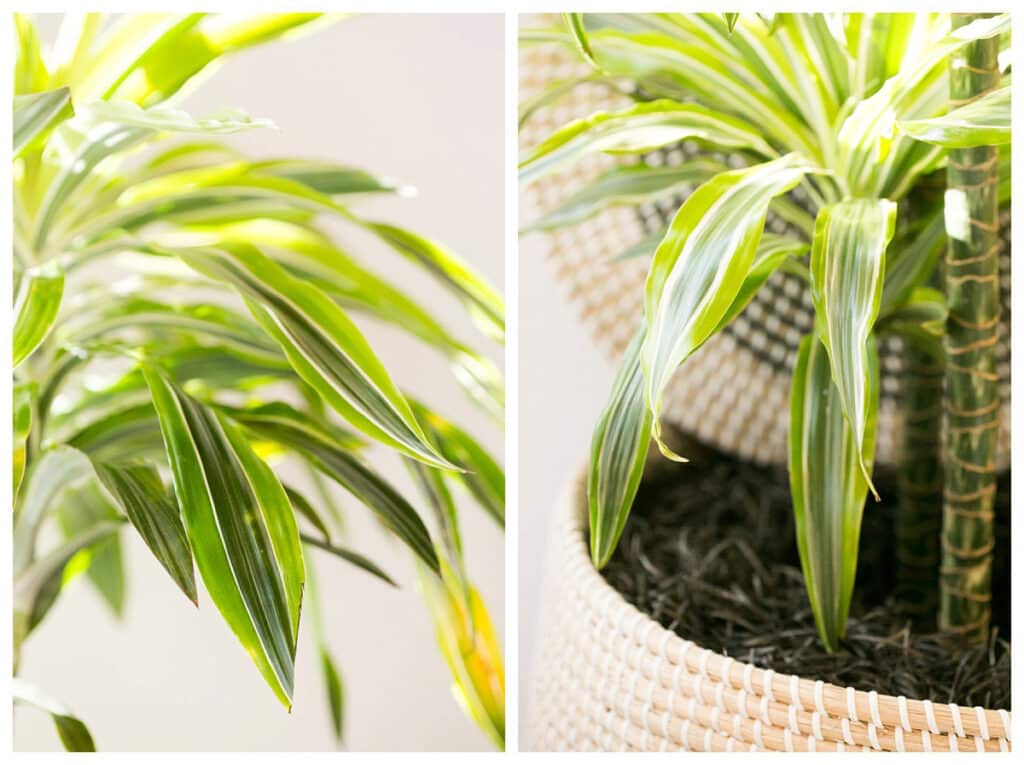 Thanksgiving Cactus
For the holidays, we can recommend Thanksgiving cactus as a colorful addition to your home decor. Bright and beautiful with flamboyant flowers, these tropical plants require little water and are happy in bright indirect light.
Add a bold splash of color to the kitchen or dining room with this cactus plant. Similarly, Christmas cactus is a beautiful cactus that brings joy and color to the winter season.
Style: Colorful and fun holiday joy
Learn how to grow Thanksgiving cactus here.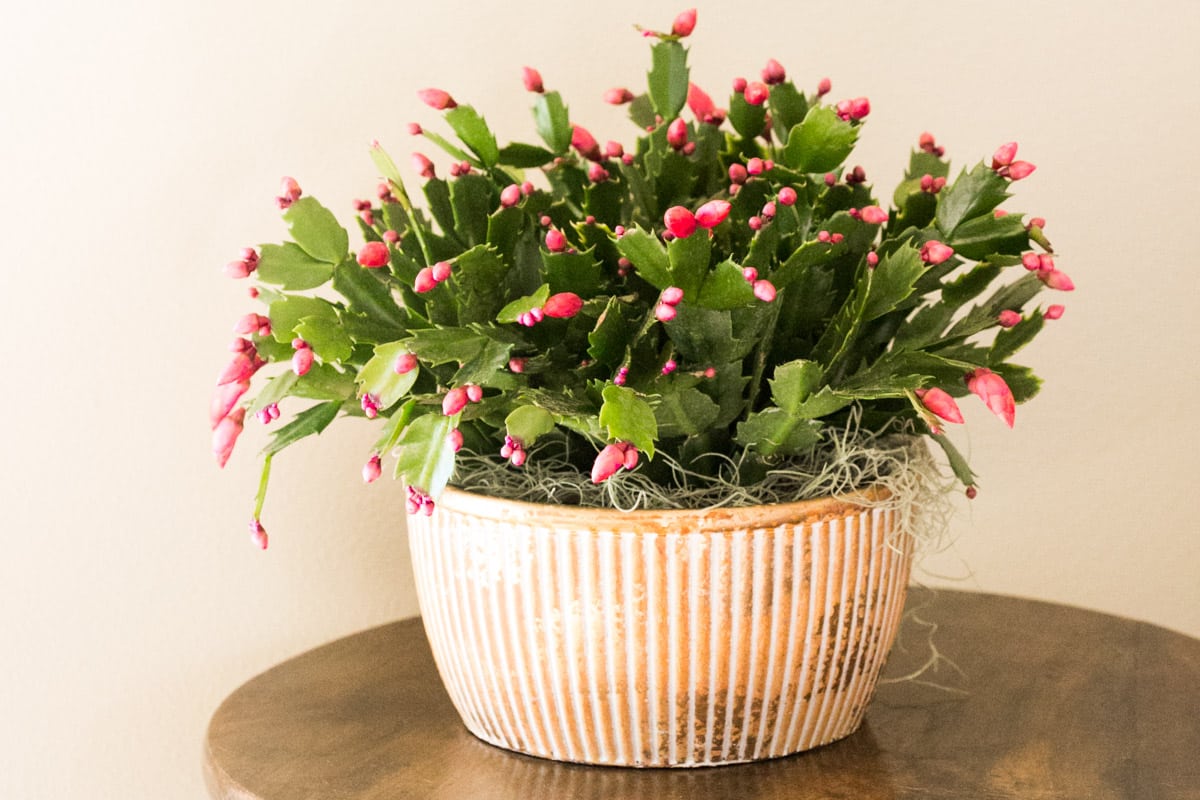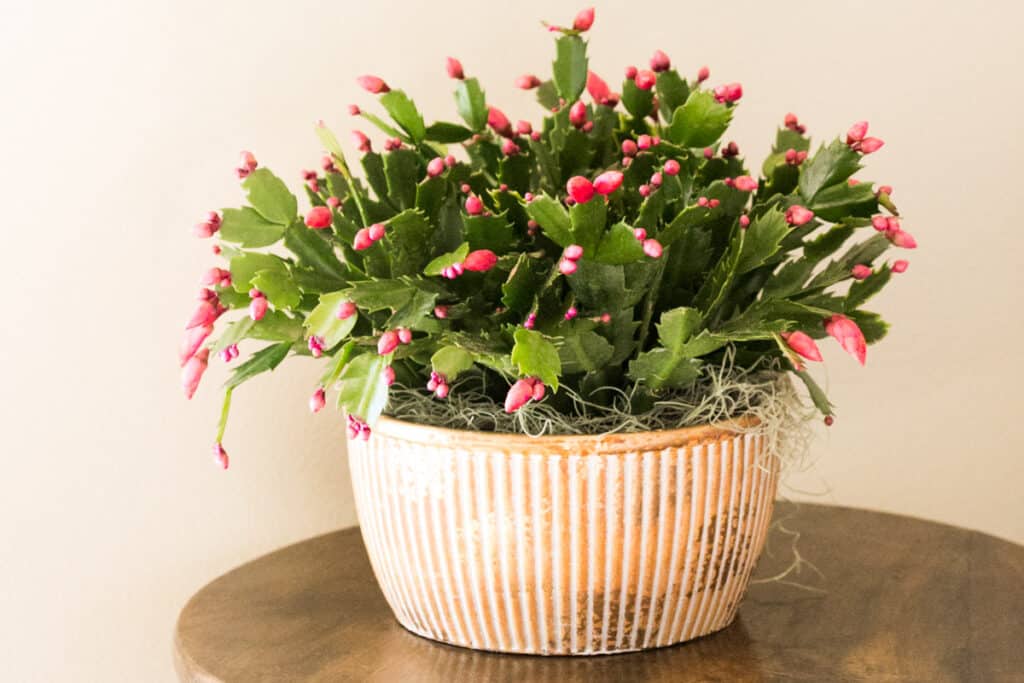 Poinsettia
Poinsettia brighten up dreary winters with their vibrant colors and beautiful, large leaves. They make a memorable focal point on a Christmas table.
Known best for their bright red shades, these holiday plants actually come in many different colors. You can extend your poinsettia growing season and even plant it in a large pot and grow it in a warm sun room if desired.
Style: Seasonal, vibrant, festive and fun.
Snake Plant
Snake plants are highly popular and often seen in a modern living room or home office. A snake plant needs very little water and is one of the easiest indoor plants to grow.
Give your snake plant a light dusting every so often and ensure she has good drainage and she will be happy.
Style: Modern, fun and textural
What Are Aesthetic Plants? Aesthetic plants are indoor plants that enhance the beauty of a home with their color, shape and form. They add visual interest to the home with their foliage and blooms, which create an atmosphere of intrigue and beauty. Aesthetic plants can be used in any room to add natural vitality, comfort, and personal expression.
Aloe Vera Plant
Beautiful sage colored green spikes adorn an Aloe Vera, making them an intriguing design plant. This soothing succulent offers many healing benefits and is incredibly easy to grow.
Aloe Vera has a unique shape with pointed leaves that are full of healing vitamins.
Aloe are not only beautiful but good to have on hand for minor skin ailments, such as sunburns. They crave bright indirect sunlight and have very low water needs. They are a perfect plant for beginner house plant gardeners.
Style: Spiky and medicinal with muted earthy tones, modern
Spider Plant
Spider plants are known for their cascading, variegated leaves and ability to tolerate neglectful watering. (Beginner plant owners, here's your hint!).
They are one of the best indoor plants for scrubbing harmful chemicals from the air, such as carbon monoxide and formaldehyde. Spider plants prolifically offer new baby plants, which you can gift to friends and family.
These beautiful house plants love bright light and are typically watered once a week, though they will survive a little neglect.
Style: Funky and fun adding whimsy and charm
Fiddle Leaf Fig Tree
Fiddle leaf are tall plants (they grow up to ten feet) and can make a beautiful statement piece in a living room or entryway.
With their wide waxy green leaves and dramatic size, the fiddle leaf has become widely popular over the last decade. You will find faux fiddle leaf at nearly every home decor store. Fiddle Leaf enjoys a lot of bright indirect light and is a great choice for a south facing window.
Style: Vibrant and versatile, seen in almost every decorating style
String Of Pearls
If you want to add a cozy yet elegant touch to your interior design, consider String Of Pearls. These beautiful indoor plants have tiny pea shaped leaves cascading in rows.
This cascading indoor plant can do well with indirect light in a sunny bathroom or bedroom. String of Pearls have a shorter lived life span, so you will have to replace with new plants every 3 to 5 years.
ZZ Plants
Bright green glossy leaves shaped in a perfect oval make attractive ZZ plants highly sought after. ZZ plants may well be the most aesthetically pleasing indoor plant there is, and the good news is they are terribly EASY to grow!
Use a loose, well draining potting soil for ZZ plants and place them in bright, indirect light. ZZ plants are drought tolerant, so let the soil dry out between watering.
Make sure you have awesome drainage in place for your ZZ plant, and re pot this vibrant indoor plant every few years.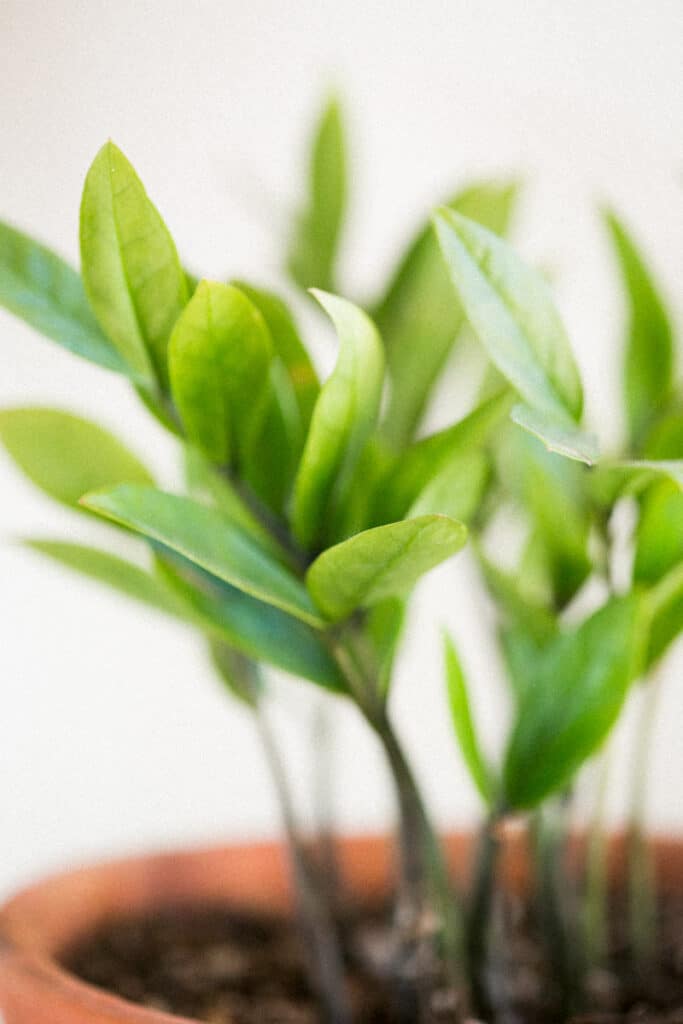 Succulents
Succulents are an easy way to add charm and interest to a room. They are very drought tolerant and easy to grow. Succulents love full sun, so place them in a room that gets at least 4 to 6 hours of bright sunlight.
Succulents thrive in dry conditions, making them an ideal plant to grow indoors during winter. Make sure to give your succulents well draining soil and wait until the soil is completely bone dry before watering.
Style: Charming, versatile and easy to incorporate into decor
Bird Of Paradise (Banana Leaf Plant)
With large green fronds this lovely tropical plant is sure to make an impression on guests arriving to your home! Use Bird of Paradise as a statement plant in your living room or any space that has very bright indirect light.
Make sure you have plenty of light for this oversized beauty. Let the top two inches of soil dry in between watering.
Style: Statement piece, dramatic and modern
Bird's Nest Fern
The bright green ruffled leaves of a Bird's Nest Fern can add intrigue and color to any room. This plant can tolerate partial shade and loves humidity, making it an excellent bathroom plant. Bird's Nest Fern loves humidity so mist regularly.
Give your Bird's Nest Fern loamy acidic soil and lots of moisture and she will be happy.
Style: Versatile! Bird's Nest Fern looks lovely in any style of home and any room.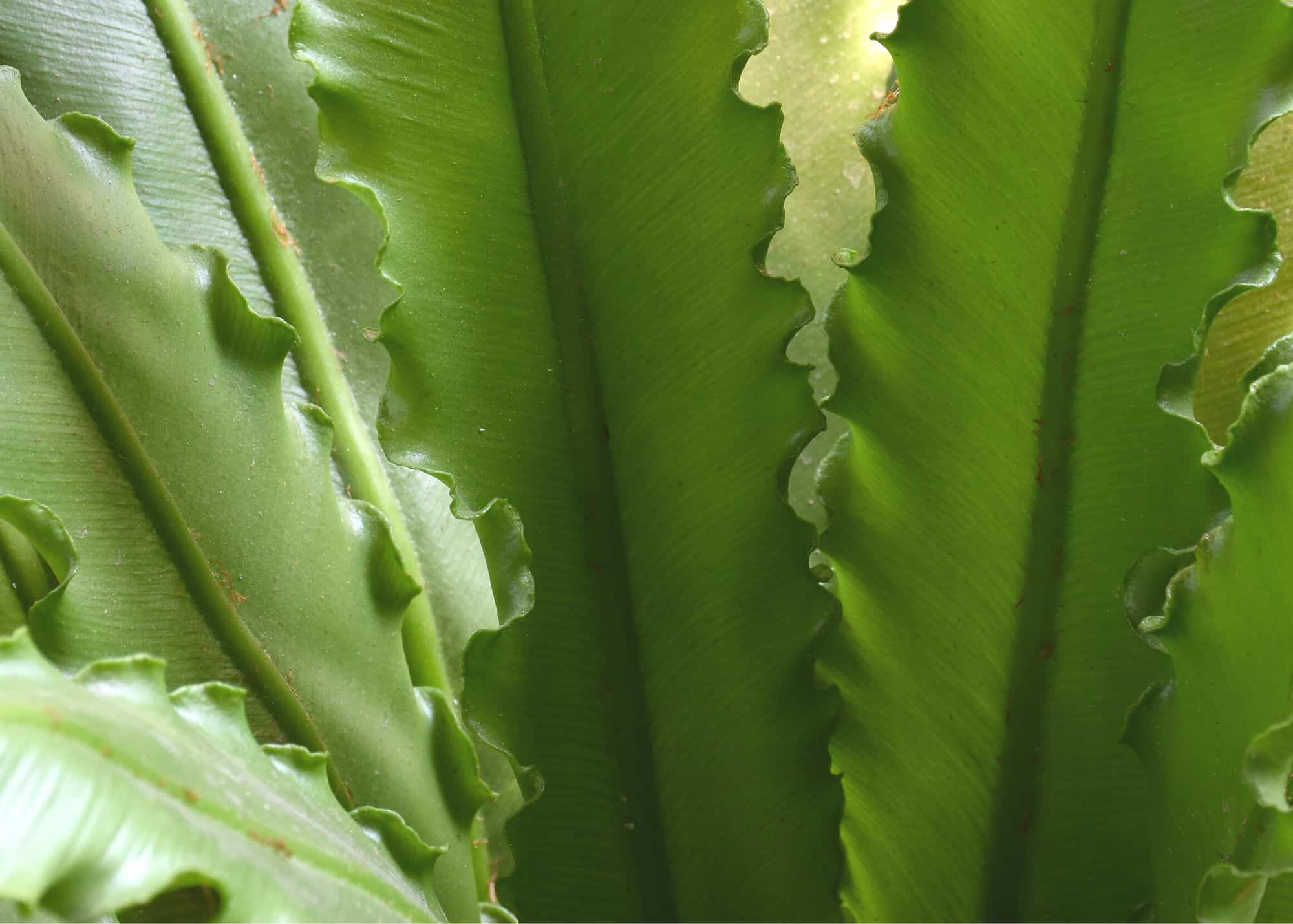 Air Plants
Spiky and fun, air plants make wonderful little additions to an indoor plant collection. They thrive in well lit bedrooms and add a touch of whimsy and charm.
Air plants thrive in indirect light and need very little care, however they benefit from a weekly deep soak and air plant fertilizer.
We can speak from experience that air plants can take a little neglect and survive, however if well taken care of these modern plants will both boom and produce baby air plants (which are adorable by the way).
Style: Charming, modern and fun. Air plants can have a beachy vibe but are very versatile.
Learn the difference between air plants and succulents here!
Majesty Palm (Kentia Palm)
A Majesty Palm has multiple flowing green fronds that will make a statement in your living area.
Though not the easiest plant to grow indoors, Majesty Palm is well worth the effort and will make a dramatic statement for those who love indoor plants. Majesty Palm craves a humid environment and consistent moisture.
Ponytail Palm
Funky and charming, Ponytail Palm are a cheerful and unique plant to add to a dining or living room. These unique indoor plants tolerate low humidity and are considered fairly easy to grow.
Ponytail palm is a succulent and therefore drought tolerant: wait until the top 2 to 3 inches of soil is dry before watering.
Style: Funky, unique, modern and fun
Peace Lily
Aptly named for their ability to inspire a calm atmosphere, Peace Lily is a vibrant green plant with wide leaves and a pretty white bloom. These beautiful bloomers can be an lovely accent plant in a bathroom or bedroom.
Peace Lily is low maintenance and craves indirect light and moist soil. We love Peace Lily's gorgeous waxy green leaves, calm presence, and white flowers. As with all indoor plants, make sure there is a drainage hole in the bottom of the container.
Style: Incredibly versatile, Peace Lily work well in any style of home.
English Ivy
If we could pick one cozy plant this one is it. English Ivy is a popular fake plant, but we think the perfect way to add character and cozy up your home is to grow the real thing!
English Ivy can tolerate low light, and looks gorgeous cascading from a high shelf or draped from a hanging basket. This beautiful plant needs watered about once every 7 days. Try growing English ivy in a bedroom or bathroom for a cozy, romantic touch.
Lavender
Lavender is a romantic cottage herb that will add charm and color to a sunny entryway or kitchen. As an added bonus, the sweet aroma is healing and relaxing.
While lavender is known as an outdoor plant, it can also be grown indoors, and with great benefit for the gardener! Lavender offers soothing, aromatic scent that creates a calm atmosphere. Just a few whiffs of a lavender plant can help you relax.
To grow lavender indoors, find a sunny spot with direct sunlight. Unlike many other indoor plants, lavender craves heat and direct light, so it's the right plant for a sunny area of your home.
When warmer temperatures hit set your lavender outside, just make sure to find a spot in full sun!
While indoor plants often lend themselves to modern decor design, English Ivy and Lavender are two cozy cottage style plants to try.
Areca Palm
Known for it's tall feathery fronds and ease of growing, the Areca Palm make quite a statement for living rooms and entryways. This beautiful indoor plant needs moist, well draining soil and will need to be re potted every few years.
Like so many of the indoor plants mentioned here, Areca Palm crave bright, indirect light and love a moist, well draining soil.
Boston Fern
Lush and cascading, green and romantic… oh how we love a Boston Fern! These plants are one of the easiest ways to add drama and interest to your home design.
These beautiful ferns can grow to be very large in the right conditions. High humidity is great for Boston fern, and they crave bright and indirect light.
In warm climates Boston Fern make great outdoor plants in spring and summer (zones 9 to 11). We love the drama of a Boston Fern in a dining room or enclosed outdoor living area.
Style: romantic, inspirational and calming
Olive Trees
If you want to add interest and intrigue to your interior decorating, consider growing an indoor olive tree. This Mediterranean tree will love a sunny spot near a large window and warm temperatures. Ensure your tree has enough space to spread it's roots in a very large container with good drainage.
Style: Goes well with cottage style decor: elegant with soft tones
Swiss Cheese Plant
This fun and funky plant is a climber that enjoys having a stake to grow against. Swiss Cheese Plant enjoys bright, indirect light and needs well drained soil and consistent moisture.
Stye: Modern, eclectic and fun
Lemon Trees
An indoor lemon tree is not only vibrant and beautiful but edible as well! The cheerful bright yellow and zingy scent invigorate and lift mood.
Lemon fruit is proven to increase feelings of happiness and joy. The trees need consistency in temperature and will not tolerate heat fluctuation. Maintain temperatures around 65 to 70 degrees to keep your tree happy. Lemon trees crave sun, so keep your plant in a sunny, bright spot.
When growing lemon trees indoors, you'll have to commit to trimming the roots every few years.
Style: Fresh and fun, Lemon Trees accent any decor style.
Benefits Of Indoor Plants For Aesthetics
There are many benefits to using indoor plants in your home decor.
Indoor plants improve indoor air quality, mood and add a touch of style and visual interest. Their vibrant greens and beautiful blooms help create a personalized and personable atmosphere in which to live!
Adding lush greenery is a quick way to improve your interior design and make your home feel alive and loved. The best plants are going to be the ones that you don't stress about too much and that bring comfort to your home.
While live indoor plants really elevate a space, we have nothing against well designed artificial plants. Make your purchase carefully and you'll have the same effect of upgrading your space (just without the health benefits).
Tips For Growing Aesthetic Plants In Your Home
Here are a few tips for upgrading the aesthetics of your home with indoor plants:
Light is the most important aspect of growing indoor plants. While you can modify soil and moisture, light is usually a constant. Study the light in the different rooms of your home and use the light as your guide.
Consider height when designing a space. Often, a tall plant placed behind a couch or table will add the dimension and interest that your room needs.
If you are new to growing plants indoors, start with just one plant and learn how to care for it. As you gain confidence, add more plants to your indoor garden!
Think through the maintenance of each plant before purchasing. If you travel frequently consider low maintenance indoor plants such as succulents, Peace Lily, and Spider Plants.
Purchase plants for your desired aesthetic. If you have a cozy cottage home, use a hanging planter to feature English ivy and add containers of lavender or mint by the front door. And if you are more modern, feature snake plants, fig trees and palms.
Windowless bathrooms can be a challenge, but try out a low light plant such as ivy or Peace Lily.
FAQ'S
Do Plants Help Lift Mood?
Yes, plants can help decrease anxiety and depression. It is proven that a walk in the great outdoors can lift your spirits, so one of the best ways to lift spirits is to bring the dark green leaves into your own home. Read this article for more information on mood and indoor plants!
What Is The Best Aesthetic Plant To Have In The Bedroom?
Calming plants such as lavender and Aloe Vera make wonderful bed room plants.
What Plant Makes People Happy?
Lily of The Valley is an indoor plant that is proven to increase happiness and joy.
What Is The Most Aesthetic Plant?
Aesthetics really come down to personal preference. We love both Boston ferns and ivy for their cascading effects, Peace Lily for her beautiful white blooms, and the Fig Leaf as a large and generous statement plant.
Conclusion
From vibrant colors to funky leaves (and more!) we hope you enjoyed this inspirational list of the most popular indoor plants to up level the aesthetics of your home.
Let us know in the comments what your favorite indoor plant to decorate with is… and why!