Spring Garden To Do List (With Free Printable Checklist)
This printable spring to-do list will give you direction when cleaning up your garden beds and preparing for spring.
A flutter of excitement stirs in every gardener's heart when early spring emerges. The flowers, the vegetables, the bees… from beneath our parka we are a bit woozy just thinking of glorious spring.
The new growth in the garden beds and colorful plants at the nursery bring much excitement at the end of a long winter.
Before spring fever hits it's a good idea to have a spring garden to do list in hand. This free printable spring garden checklist is full of the most important spring items to check off. It will prepare your garden (and yourself) for the upcoming season of spring planting and bounty.
We are sharing details of everything you need to get garden ready for spring in this article. Scroll to the end of the post to download your free printable spring to do list when you're ready to get started!
(Every home garden is different and will have different needs each spring. We are giving you a thorough list of spring to-dos, but if a task does not fit into your beautiful garden just ignore it!).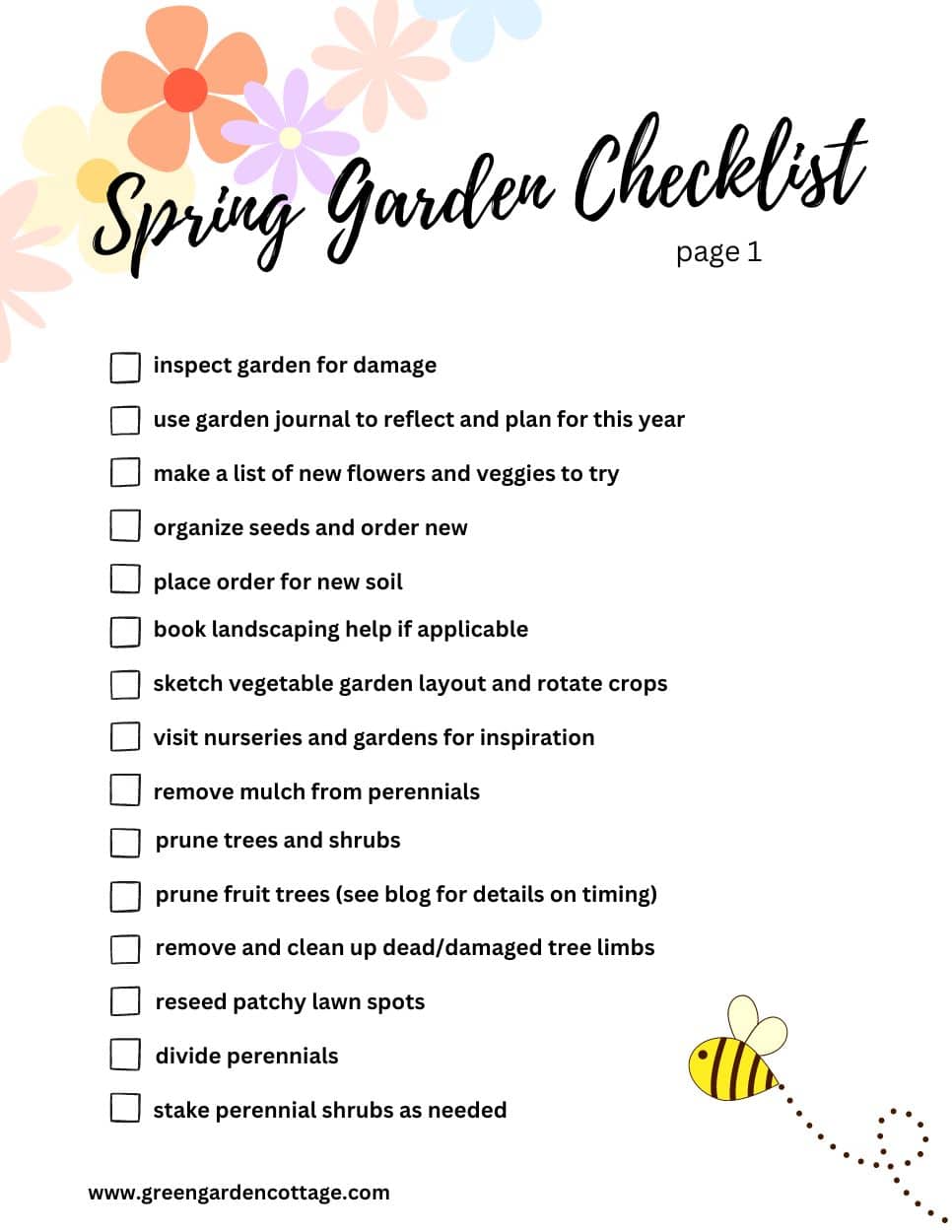 Scroll to the bottom of the post to download the entire check list.
(Get the best flower gardening tips for beginners here!).
Benefits Of A Spring Garden To Do List:
There are several reasons why you need to implement this spring check list before the season gets ahead of you:
Clean up your own garden before the heat of summer kicks in
This is the best way to get a head start on planning your vegetable garden and flower beds
Prune trees, remove spent foliage and clean up the herb garden at the right time
Spruce up the flower beds fresh bark dust and trimmed hedges
Go into your veggie season with a solid plan of what to grow
Dream up fresh flower garden ideas and plan your layout
Be inspired for the upcoming gardening season!
Get our beginner's guide to flower gardening right here!
Spring Garden Checklist (Step By Step)
These steps will take you in depth into our spring garden to-do list. Print off the checklist for a simplified version and room for marking off each task.
Prepare For Spring Planting (Mid Winter-Early Spring)
Late winter to early spring is a good time to allow yourself to plan new garden ideas. Spent the dreary days dreaming and scheming of beautiful flowers to come!
We love late winter as it's the perfect time to cozy up with a cup of tea and dream over plant catalogues! Planning is the first thing you need to do: it can save you so much time and money later.
The first items on your check list can be done from your favorite armchair:
Know your specific garden zone and understand your micro climate. Your zone will tell you when the last frost in your area is. This will affect when you can start seeds and set out tender annual flowers.
Put on the rubber boots and head outside to inspect the vegetable garden, flower beds and trees. Look for damage and make note.
If you keep a garden journal, this is the best time to put it to use. What worked in your flower beds last year? Is there anything new you want to plant?
Use your garden journal or calendar to begin planning this spring's garden. What new plants do you want to try? If you aren't in the habit of keeping a garden planner start now.
Asses your flower garden and make a list of new flowers to try this season
This is the time of year to organize existing seeds and order new seeds
If you hire help for your lawn care, get them on the calendar now, before the spring rush
Place an order for a soil that is rich and full of organic matter
Pencil in time to visit nurseries and established gardens for inspiration. We love touring the Portland Rose Garden and Lilac Gardens each year for a fresh dose of inspiration and beauty
Get a head start on your vegetable garden planning. Add in crop rotation for the health of your vegetables
(pssttt.. join our email list to be the first to know when we launch our printable garden planner!)
Clean Up The Garden Beds + Trees
Now it's time to set aside the cozy cup of tea and begin garden maintenance, cleaning and pruning.
Cleaning up the garden beds and assessing your yard for damage is an essential step of preparation for the spring and summer growing months. A clean garden prevents disease and allows plants to thrive.
Remove mulch and dead leaves from the soil surfaces so your early spring perennial plants can be exposed to sunlight. It's time to give them sun so they can grow!
Prune any non spring blooming shrubs and trees. Pruning trees and shrubs at this time will prevent disease and encourage fresh, healthy growth.
If it's still late winter, now is the time to prune your fruit trees. Complete before flower buds set!
Remove any other damaged or diseased tree limbs and branches
Clean up dead leaves and tree branches/limbs that may have fallen from heavy frosts
Reseed areas of the lawn that are patchy or damaged
Learn how to get lavender to bloom here.
Tend To Perennials
Hardy perennials need a little extra attention in spring. Here's what to do:
Divide perennials before spring growth. Early spring is a good time to divide perennials like irises before the growing season starts.
Set up support stakes for plants such as peonies
Remove any old growth, leaves and stems from perennials (avoid pruning new growth)
Cut back any ornamental grasses to give them a good start for new growth
This is the ideal time to prune many herbs: cut off old woody stems of sage, thyme and rosemary. As a general rule never remove more than 1/3 of these plants at a time
Bird Feeders + Outdoor Structures
Check for damage on raised beds and bird feeders, this is a good time to clean bird feeders with hot soapy water
Clean out the bird bath (a pressure washer works well for this)
Clean out and organize the garden shed. Toss any damaged pots and containers
Inspect window boxes: does soil need amended or replaced? Is there any damage?
The best for flowers that attract hummingbirds can be found here.
Plant Cold Weather Vegetables And Transition Plants Outdoors
As spring progresses, you can start planting cold weather crops according to the zone you live in:
Inspect garden soil, turn and add manure and compost as needed
Check your zone to determine when you can begin planting cool season crops such as spinach, radish, peas and lettuce (check soil temperature and local zone guidelines)
Amend flower beds with organic materials such as aged manure
Slowly begin to transition plants from indoors out. If you have lavender or salvia over wintering in the garage you can begin hardening them off by bringing them outside a few hours at a time (increase watering at the same time)
Plant spring bulbs such as lilies, begonias and anemones (see more here)
Get the best list of early spring perennial flowers here.
Seed Starting
This is the time to start setting up your seed starting stations and planting those tiny seeds!
Timing will vary based on your local planting dates. On average, you can start seeds indoors 6-8 weeks before your last frost date.
Plan your seed growing and order supplies as needed.
Apply Mulch, Fertilizer and Weed Control
Get a head start on keeping your flower beds free of weeds by starting in spring.
Weed garden beds and edge both beds and grass
Apply a fresh layer of compost to perennials and shrubs
Apply a layer of fresh mulch or bark dust to your flower beds
Add slow release fertilizers as applicable
Compost
Late winter to early spring is a good time to start a compost pile. If you already have one established, be sure to start turning it weekly.
Get inspiration on the basics of composting here.
Pest Control
As spring arrives your insect friends are just as eager for the tender new growth as you are.
Slugs and snails will go after your early leaf lettuce and spinach, and you'll find that the birds and insects will readily pluck and chew your flowers and veggies all season.
Here's what you need to do to prepare for pests:
Order bird netting and have it on hand to protect your berry bushes later in the summer
Stock up on sluggo to protect vegetable plants and tender shoots on perennials such as dahlias. Sluggo is organic and non toxic to humans and pests, and is an easy way to protect pea shoots, young flowers and more.
Inspect fencing
Make sure to rotate your crops to prevent disease, which makes plants more susceptible to pests
Plant bug repelling plants such as mint, marigold and chives
Purchase and release ladybugs throughout spring and summer to help aphid control
Outdoor Furniture
As the weather warms up take the time to clean and put together any outdoor furniture:
Uncover and set up outdoor furniture (this is a great time to clean it as well!)
Clean off and pressure wash patio and deck
Set out spring and summer garden decorations
Tools
In addition to the garden shed, you'll want to make sure all of your garden tools and ready to go:
Clean up and inventory garden tools. Watch for spring season sales to replace garden gloves, clippers, shovels and more
Sharpen garden shears and clippers
Test hoses and nozzles to make sure they are in good working order + replace if needed
Set up rain barrel
Have lawn mower blades sharpened
Other Outdoor Spring Tasks
Don't forget these other outdoor spring tasks that will keep your home and garden looking sharp:
Check gutters for leaves and debris: clean as necessary
Inspect roof for moss + book cleaning
Inspect air vents around home foundation for damage and rodent activity
Inspect home for damage from winter storms and weather
Touch up house paint as needed
pssttt…learn how to plant tulips here!
Download Spring Garden To Do List Here
Download the four page spring garden to do list here. We have designed this check list to be simple and easy to use. Just print all 4 pages and hole punch for a binder or staple together.
As the cold winter ends these spring garden tasks will prepare you for a new gardening season full of beauty and joy.
Be inspired for the new season and use this spring garden to-do list to get get out and enjoy the fresh air and revel in the beauty and thrill of spring.
The hot summer days will be here before you know it, so take advantage or your spring fever and tackle as much as you can!