Red Sunflowers: The Best Growing Guide
With vibrant sun kissed colors, red sunflowers are a unique and fun addition to the summer garden!
Red sunflowers are lovely alongside vegetable gardens, sprinkled throughout flower beds, and planted en masse for a colorful summer show.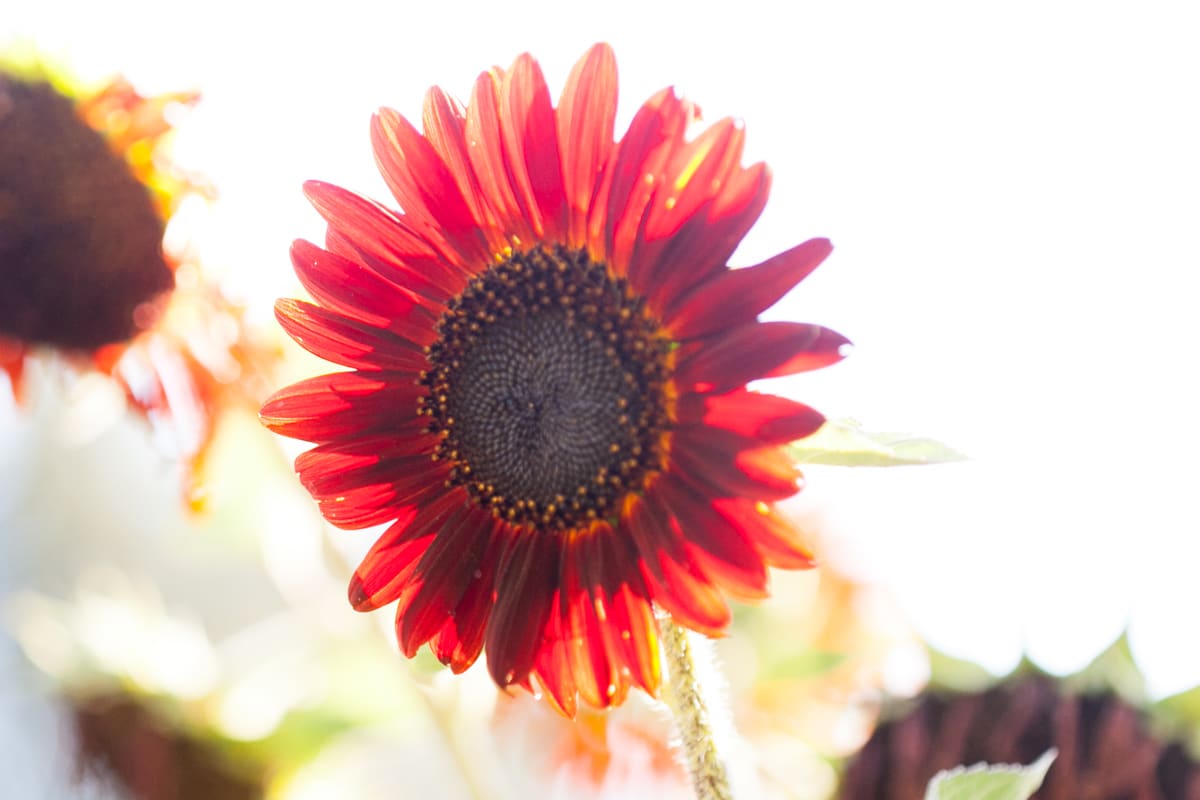 While plain old yellow sunflowers are fun to plant, red sunflowers provide an unusual surprise to the standard cottage garden.
We have planted some of our own red sunflowers this year, and our neighbor's garden boasts of them as well. From across the fence, these bold sunflowers are eye catching and beautiful. Kids love them, and the bees and butterflies can't stay away, making them excellent pollinators.
We can attest that these beautiful sunflower sirens will add interest and joy to your garden this year. So, how do you plant and grow them, and where can you buy them? We're dishing all the details on this floral delight below.
Learn about the parts and functions of sunflowers here.
But First, Is There Really Such A Thing As Red Sunflowers?
Many colorful cut flowers are synthetically dyed to be intense shades of purple, green or red.
So you, may be wondering, are red sunflowers even real? Yes, red sunflowers are real, and like regular sunflowers, grow from a seed each spring.
Red sunflowers are naturally occurring and are not dyed. Like all modern sunflowers, they are part of the Asteraceae family and originally came from the wild sunflower species.
Sunflower Color Shades
Sunflowers are available in many different shades of red. From burnt orange to crimson red and everything in between, you'll find many varieties of naturally red sunflowers to choose from.
Some red sunflowers are a darker maroon, and as shown below many are a beautiful ombre of red to fading yellow.
Sunflowers are historically native to North America. There are many varieties choose from, from sunset red with yellow tips to deep red with black tinges.
Read all about dwarf sunflowers here!
Varieties Of Red Sunflowers
Here are a few of our favorite varieties of red sunflowers. Try growing a few different types and see which ones you love the best.
Here are ten popular varieties to consider:
Indian Blanket: Easy to grow with ombre red to yellow blooms, this sunflower is wonderful for drying
Red Sun Sunflower: Orange to red, branching, 5 to 6 feet tall. Long blooming!
Autumn Beauty: A popular variety with 6 inch gold rust colored blooms. Tall 7 foot plants.
Earthwalker: Copper colored flowers, late season bloomer with multiple branching blooms.
Crimson Queen: Fiery orange to red petals contrasting a dark center, growing up to 80 inches
Chocolate: Rich crimson blooms are a unique and eye catching favorite. Deep chocolate red hues.
Red Sun: One of our favorites, Red Sun reaches six feet tall and boast a beautiful ruby red.
Moulin Rouge: A flashy sunflower to add to the garden beds, Moulin Rouge looks like red velvet and makes an excellent cutting flower.
Ring of Fire: This gorgeous bicolored bloom is yellow and red, a fan favorite for gardeners everywhere.
Red Sunflower Growing Information
Here you'll find all the information you need to know to grow these beautiful blooms.
Growing Zones
Zones 2-11.
Sunflowers are one of the most versatile annuals sprouting in summer gardens. They grow in zones 2-11, which means that you most likely live in a location where these bold blooms can thrive!
Here is an excellent growing guide that outlines the different zones throughout the United States. Red sunflowers grow in every state, although there are a few colder concentrated areas where they will not thrive.
Where To Plant + Soil Conditions
Luckily for flower lovers like us, red sunflowers are an amicable flower that are not too picky! They are one of the few flowers that can thrive in poor soil.
For best results, however, plant in well draining soil in a location that receives full sun, and if possible plant in soil that has some nutrients.
Full sun means at least 6 hours of direct sunlight, but sunflowers do well in even longer direct sunlight conditions! They are called "sun" flowers for a reason!
You do not have to have rich, nutrient dense soil for red sunflowers, this is a flower species that can thrive in any soil.
When possible, choose a location that is out of direct wind, or sheltered in some way. Due to their long stalks, sunflowers are susceptible to damage from wind.
Read these easy sunflower ideas for your backyard here.
Are Red Sunflowers Annuals Or Perennials?
Red sunflowers are annuals, which means that they bloom for one season and do not come back the next year.
If you let sunflower seeds fall to the ground, you may end up with volunteer starts the next year. Of course you will be betting against birds (who gobble up sunflowers seeds in a flash!), rot from rain, and wind.
The best way to ensure you have sunflowers in the following season is to collect the seeds or re purchase and plant them in the spring again.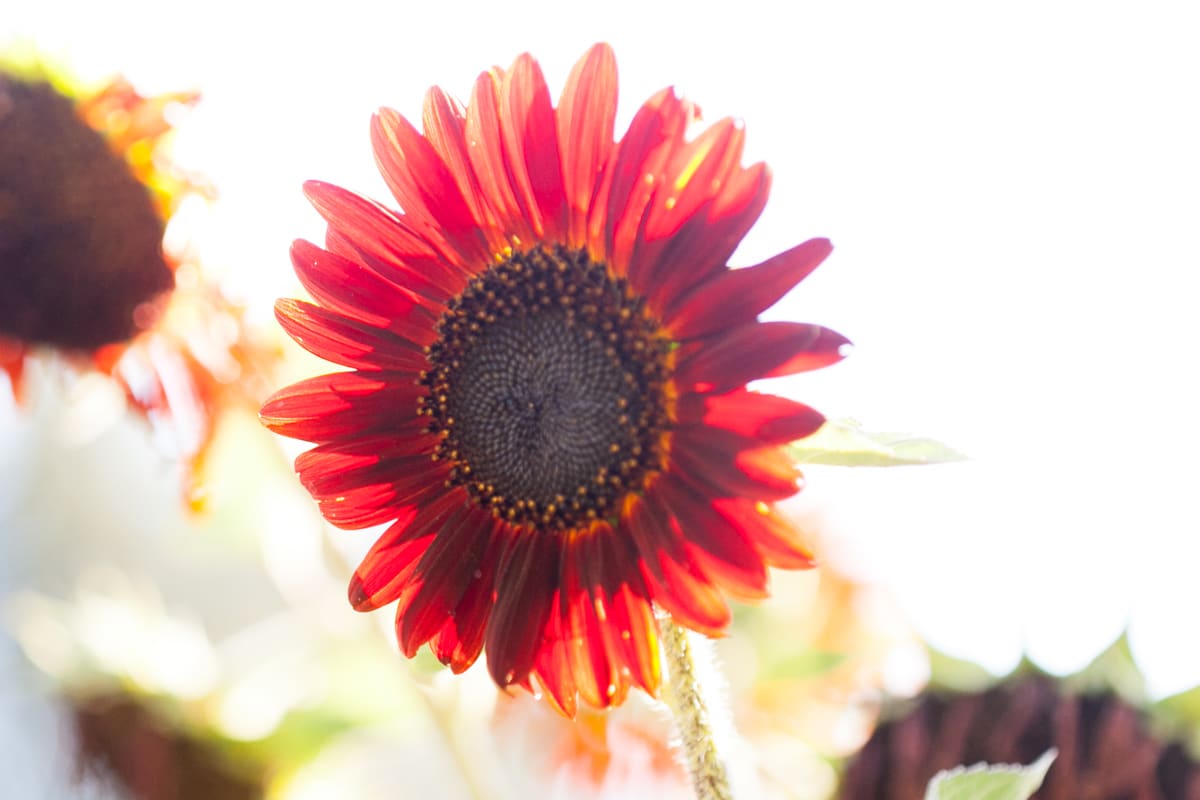 How Tall Do Red Sunflowers Grow?
On average, the height of red sunflowers is 60 to 72 inches, or 5 to 6 feet tall. However, the height of red sunflowers depends on the variety that you are growing.
Dwarf sunflowers only grow a few feet high, and many varieties, such as Autumn Beauty, can grow over 6 feet tall in the right growing conditions.
How To Plant + Grow Red Sunflowers
Planting red sunflowers is very easy. You can grow your seeds straight in the ground once all frost danger has passed or start them indoors earlier in spring.
Planting Directly In The Ground:
Wait until all danger of frost has passed. If you live in a particularly rainy area, you may also want to wait until the rainy season has passed to prevent your sunflower seeds from rotting. Then:
Dig a hole or trench in soil about 1/2 inch deep
Space red sunflower seeds 6-8 inches apart
Place 2-3 seeds in each spot
Cover loosely with 1/2 inch of soil
Water lightly (soak but don't drown your soil!)
Continue to water regularly, keeping soil damp but not soggy
Watch regularly for seeds to sprout, (about 10-14 days)
As seedlings grow, remove weak seedlings by cutting them at base
Tips For Seedlings: Sunflower seeds can be susceptible to rot, so be sure to monitor the soil and make sure it's not sodden. Seeds are a favorite snack for many birds, bunnies, etc, so if your seeds don't sprout within a few weeks you may need to re plant!
Uses
Red sunflowers have myriad of uses for both the home and garden. Some of our favorite ways to put this beautiful red bloom to use are:
Cut flowers for decoration. Many sunflower varieties make excellent cut flowers. Check out varieties Indian Blanket, Red Sun, and Santa Fe Sunset for beautiful hues to adorn your table. Try drying your sunflowers by hanging them upside down, and using them in a longer lasting bouquet of dried flowers.
Press and dry petals and use framed around home
Pollinating the garden. It's no secret that you need bees, butterflies and other insects in order to have a successful garden. Planting plenty of flowers around your garden will ensure pollination is successful. Red sunflowers are bright and attractive, bringing the bees buzzing to your garden beds.
An edible and healthy treat. Sunflower seeds are delicious and healthy. They are chock full of healthy omegas, vitamin E, and anti cancerous properties. Read this article for more information.
You can use this bold and colorful variety of sunflowers for many uses: home decoration, to encourage pollinators to visit your garden, and as a healthy edible addition to your diet.
Meaning + Symbolism
Meaning + Symbolism Of Red Sunflowers:
Positivity
Strength
Vitality
Energy
Passion
Red sunflowers reflect their bold color in their meaning: they are an omen of positivity and vitality! Red sunflowers also represent energy and passion. Sun flowers with orange tints symbolize good fortune, cheerfulness, and joy.
Consider growing and giving your own vibrant sunflowers as gifts to friends and family with an encouraging floral inspirational quote attached.