30+ Cottage Flowers To Grow And Love
Today we are sharing over 30 stunning cottage flowers to add whimsy and beauty to your garden.
A quiet lane with winding graveled path, blooms spilling over the edges in pastel pinks and blues… bees humming happily. Grab a picnic basket and fill it full with flowers meant just for cutting and enjoying. Then relax quietly on a bench and enjoy the calming aroma of fresh lavender.
A cottage flower garden is a reprieve from the hustle and bustle of the modern world.
It may seem the cottage flower garden is a product of a bygone era, but it's really only a few flower seeds (or starts) away. A quiet, restful garden, not too perfectly manicured and saturated in blooming beauties, is yours to be had.
What Is A Cottage Style Flower Garden?
A cottage style garden is a romantic and charming garden style that features a large variety of flowers, herbs and trees. It includes a heavy emphasis on seasonal blooms that attract pollinators and flowers for cutting and sharing.
While modern gardening styles feature clean lines and well spaced plants, a cottage garden has an abundance of flowers, shrubs and trees that create a layered, cozy look.
Cottage styled flower gardens are informal and inviting, featuring a variety of flowers that grow and bloom at different times throughout the season.
These casual flower gardens often feature arbors with overflowing roses, winding gravel paths, bird baths, and lots of flowers that attract pollinators like hummingbirds and butterflies. Cottage flowers often provide blooms to cut, decorate with, and share in arrangements and vases.
Benefits
Beautiful and relaxing, the benefits of a cottage styled flower garden are many. Here are just a few reasons why you'll love this style of garden:
Cottage flower gardens are relaxed and imperfect, there is no pressure for perfection
Because of the heavy emphasis of flowers, your yard will attract many pollinators such as bees, hummingbirds and butterflies
A large variety of flowers will ensure a long blooming season and a beautiful, bloom rich oasis
You'll have plenty of flowers for cutting and creating bouquets and arrangements
Creating winding paths and adding garden benches will provide an oasis of rest and beauty
Anyone can take advantage of this style of gardening by using planters, window boxes and pots to create their own cottage flower garden- no matter how big the space
What Flowers Go In A Cottage Garden?
From full, over the top blooms to cascading foliage, here are over 30 of the best flowers to grow in a cottage garden.
Flowering Annuals For The Cottage Garden
Annuals are flowers that you plant for just one season (in late spring or early summer when the weather is warming up). These beautiful flowering annuals will add romance and beauty to your cottage garden each season.
Petunias
Petunias make a wonderful addition to your flower garden by spilling over the sides of pots and hanging baskets. They come in a variety of gorgeous colors and can be easily be deadheaded for constant blooms until frost. Try picking a color theme and accenting your garden with petunias. Petunias attract hummingbirds.
Calibrachoa
Calibrachoa are often referred to as million bells and are beautiful cascading flowers that pair well with petunias. Plant them in full sun in window boxes, planters and hanging baskets. Enjoy them all season long by gently removing spent blooms.
Passionflower
No cottage garden would be complete without a vine climbing towards the sky and gracefully blooming beautiful flowers like so many stars.
Passionflower is resplendent in its beautiful purple blooms, and also known for it's calming benefits. Plant vines with low growing ground covers such as Blue Carpet Phlox underneath for a full, romantic look.
Cosmos
Bouquet lovers rejoice, this is the flower for you! Cosmos bloom all season long with romantic flowers in all shades. You can go for a bold bright pink or a subdued white, and these flowers truly provide bloom after bloom to cut.
With delicate blooms and strong stalks, cosmos go great in borders and love full sun. *In certain conditions cosmos will reseed and come back the following season.
Zinnias
Zinnias, like cosmos, are a cut and come again flower. They are a fun, colorful flower with rich green stalks. This flower is especially popular among kids, so if you are growing a flower garden for children or grandchildren, zinnias are wonderful to include.
Snapdragons
Snapdragons are a charming flower available in a wide range of colors. With their curious faces and long stalks they add whimsy and beauty to a cottage garden. These flowers can re bloom for up to 3 years, so they can also be considered a short lived perennial.
Learn how to grow snapdragons in pots or containers here.
Pansies
Pansies are a late winter flower that make their appearance with bright upturned faces. These flowers make wonderful border and window box plants and can be added to the flower garden very early, adding color and charm to the early spring garden beds.
Violets
The sweet late winter cousin to pansies, violets are petite, adorable, and fragrant. Violets do well in borders, planters and window boxes.
Pansies and violets thrive in cooler environments, and tend to wilt when hot. Plant in a shaded area for a longer bloom time.
Phlox
Dainty and sweet, phlox is available in many colors spanning blue, pink and white. Phlox comes in many different varieties, and can also be grown as a perennial. Creepy phlox is a favorite for cottage gardens, use it to spill over borders and add joy to your flower beds.
Miniature Sunflowers
Miniature sunflowers are a perky, fun addition to a cottage garden. At the end of the season they will attract and feed backyard birds, and they add charm all summer long. You can add regular sunflowers if you like as well, but make sure to layer them behind shorter plants.
Flowering Perennials
Perennials are a wonderful addition to a cottage flower garden- when treated with care, they will come back over and over again. Unlike annuals, perennials start blooming in early spring, adding bursts of blooms much earlier than annuals. There are many perennial flowers to choose from, here are a few of our favorites:
Hellebore
With dusky green leaves and rich petals, hellebore are one of the first flowers you will see blooming in your garden. They are a favorite at the Green Garden Cottage, planted strategically in areas that get shade all summer long.
Depending on zone, you may see hellebore blooming in late February. A romantic flower found in pink, dusky purple, or white/yellow blooms, you'll want to plant hellebore in a shady area. They thrive at the base of trees or in part shade areas.
Iris
A mid spring bloomer, Iris are elegant and unique. They can be found in many colors and add charm and beauty to the early garden. Iris can be planted in sun to part shade, and are lovely intermixed with peonies and hellebore.
Daffodils
Daffodils are charming and colorful, a welcome addition to any spring cottage garden. They bloom in early spring, offering a charming start to your flower gardening efforts. Consider adding tiny daffodil varieties throughout your yard for spring charm. Read our guide on what to do with daffodil leaves after blooming here.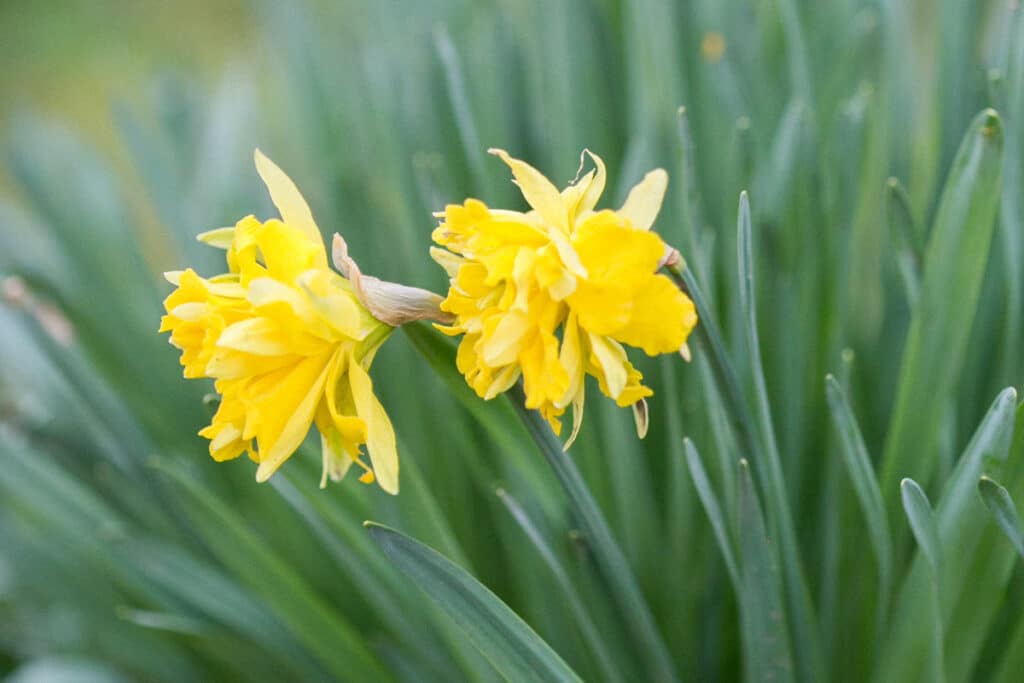 Ranunculus
Tiny, vibrant marshmallows adorning vibrant green stems… ranunculus are an irresistible flower to add to the cottage garden. With thickly layered petals that resemble small peonies, ranunculus are a wonderful cut flower that come in myriad of colors.
Tulips
Tulips are famous for the variety of colors and textures. They make a perfect addition to spring cottage flowers and compliment daffodils and hellebore. Sprinkle them throughout your garden beds, or plant them in large clumps for an impressive show in early spring.
Hyacinth
Hyacinth are fragrant and colorful, making the a fun addition to the cottage flower garden. They can be added with other bulbs for another pop of color and joy in early spring.
Campanula
Bell shaped flowers in sweet shades of white, blue and pink, Campanula is the perfect cottage flower. Plant in full sun or part shade.
Salvia
With tube shaped flowers in bold colors, hummingbirds are a huge fan of salvia. Salvia are deer hardy and come in many colors, from purple with dusky green leaves to pink and white. Plant salvia in full sun alongside other cottage sun loving flowers such as dahlia, foxglove and daisies.
Peonies
Are you looking for a flower with dramatic, over the top blooms? Look no further than peonies! It's no secret that we love this showy flower. Fragrant and flamboyant, peonies add charm, drama and beauty. Peonies bloom in late spring and make an excellent cutting flower for the cottage garden.
Learn how to cut peonies for a vase here
Lupine
Often found naturally on mountainsides and fields, lupine are a unique, stunning wildflower that add height and beauty to your flower beds. Pair Lupine with other wildflowers, such as daisies and phlox for a lovely summer wildflower feel.
Lupine have a romantic look when planted in clumps, stagger the colors (available in the rainbow) for added drama around your home. Lupine are hardy and can withstand cooler season gardens, making them a favorite in states with moderate climates.
Dahlias
With their big cheery faces and bold variety of color, dahlias are the perfect flower for a cottage garden. You can add dahlias to the garden early in pots, and enjoy them as a mid to late summer bloomer. From dinner plate dahlias to petite mixes, dahlias come in many colors and varieties and are wonderful cutting flowers for bouquets and vases.
Foxglove
Foxglove are often seen peppering wild country hills with their bold colors of purple, white and yellow. Tall and elegant, foxglove can grow in shade or sun, and add height to the cottage flower garden. A word of warning- foxglove flowers are toxic when ingested, so you may want to avoid this flower if you have small children underfoot.
A tip from the cottage garden: Plant strategically to ensure blooming flowers adorn your garden from late winter to early fall. You can do this by adding a variety of bulbs, flowering shrubs, annuals and flowering trees.
Shasta Daisies
Shasta Daisies represent free spirited relaxed cottage gardeners everywhere. With their bright cheery faces and simple beauty, daisies go well with many other flowers and are often included in wildflower mixes. Don't be too picky about where your daisies go, they truly are they life of the party in any flower bed.
Shasta daisies are a tender perennial, so in some zones they return.
Bleeding Heart
Quaint, sweet and romantic, bleeding heart literally have tiny, heart shaped flowers that thrive in full shade. Add bleeding heart to the shade portion of your flower garden, alongside hosta and hellebore.
Flowering Bushes + Trees
These flowering shrubs and bushes will add structure, drama, and beauty to your cottage flower garden. Plant flowering shrubs strategically around your garden, based on bloom time and size/structure. Then add smaller plants in layers throughout.
Camellia
Camellia are a very early blooming shrub with bold splashes of red, white and pink flowers. They are sweet and romantic, reminiscent of simpler times.
While many camellias bloom in late winter/early spring, there are some varieties that will also bloom in late fall.
Hydrangeas
Ah, hydrangeas… or what we would call the perfect shrub. Their large round blooms of hydrangeas add romance and beauty to the garden. With dark green foliage and pastel blooms in pinks, blues and purples, hydrangeas have large, heart shaped petals that stay beautiful all summer long. Hydrangeas love morning sun and afternoon shade, so plant strategically.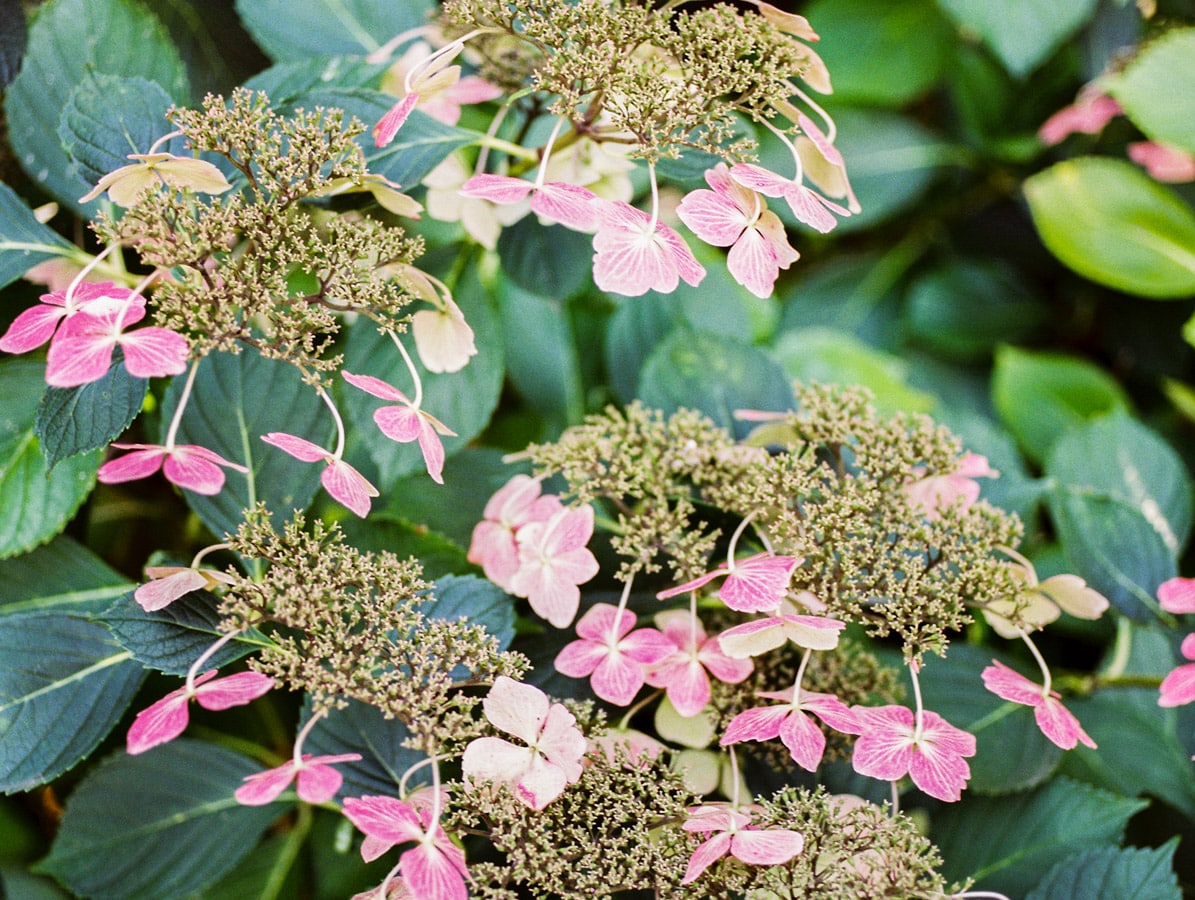 Butterfly Bushes
Floral and fragrant, butterfly bushes add a bold dash of color in early summer. The subdued, sage green leaves add a calm hue all summer long. Plant butterfly bushes for a splash of drama, beauty and height (they are great for adding dimension). With their cone shaped flowers, butterfly bushes and are a favorite for attracting bees, butterflies and hummingbirds.
Azaelas
Azaleas are a low growing shrub that can add a bold and dramatic splash of color in early spring. We've known gardeners who line the perimeter of their garden with azaleas, then filled their flower beds with flowers. The effect was quite charming and dramatic.
Dogwood Trees
Dogwood trees are a quintessential addition to a cottage garden. Blooming in late spring, Dogwood trees add an element of beauty and drama with their unique flowers. If you have limited space, adding a dwarf dogwood in on corner of the yard can add interest and charm to your cottage garden.
Roses
No cottage garden would be complete without a rose bush (or ten). From climbing roses to miniatures, there are options for every space. Roses add a classic and romantic touch to your garden and attract pollinators. With the right care and attention, many rose bushes will bloom all summer long (be sure to carefully deadhead). Roses pair well with almost any other flower!
Lilacs
Resplendent in purples, pinks and whites, lilacs add a sweet aroma and romantic, vintage bloom to the garden.  A much sought after mid spring blooming tree, lilacs will brighten up a stormy spring and bring hope for summer.   Lilacs do well in full sun, and will keep their beautiful green foliage well into fall.
Learn how to grow beautiful lilac bushes here!
Flowering Herbs To Plant In A Cottage Garden
These flowering herbs will add charm, beauty and medicinal function to the cottage garden. All of these herbs flower, and you don't have to worry about these plants spreading out of control like some herbs.
Catmint
Catmint is a beautiful flowering herb that mimics lavender in color and texture. With long, flowing purple spikes and soft sage toned foliage, it's a perfect soft pastel for borders and compliments daisies, foxglove and gladiolus. Catmint can be cut back after it's initial bloom for another rush of lovely late summer flowers.
We love planting catmint in full sun alongside cosmos and gladiolus.
Lavender
Lavender is iconic for its calming fragrance and beautiful purple flowers, and is the perfect herb for a cottage flower garden.
Plant lavender in full sun and enjoy its soothing scent, and harvest lavender stalks to dry in your home to bring the aura of cottage gardening into your home. Lavender is especially wonderful for attracting bees and butterflies.
Lavender not blooming? Read why here.
Sage
We claim that sage is the most underrated cottage garden plant. Sage blooms beautifully, with small sweet blooms that bees absolutely love. You can add the leaves to soups and roasts, bringing flavor and health benefits to your table.
Frequently Asked Questions On Cottage Flowers
What Can You Plant In A Shady Cottage Flower Garden?
Plant a blooming cottage flower garden in shade with hellebore, foxglove, and bleeding heart. Add bursts of color with pansies, and build in structure with hydrangeas, hardy fuscias, ferns and hostas.
Beginner Flower Gardening Tips
To create your own cottage styled garden, embrace your favorite flowers (or flowering shrubs and trees), and forego a formal design.
Experiment with layering plants, and make it your goal to create an outdoor atmosphere of color and joy. (Ditch perfection!).
Start slowly with easy growing flowers such as cosmos, zinnias, sunflowers and a few flowering bulbs such as daffodils. Utilize window boxes, planters and borders. If you have room, designate a spot just for wildflowers. Slowly add in more plants from the list below, and your garden will grow year after year.
Focus on planting a variety of flowers that will bloom throughout the seasons, from early spring up until the first Autumn frosts strike. Tulips and hellebore may start your season off with a splash, and you may have dahlias and cosmos blooming into mid fall, on a backdrop of flowering herbs, shrubs and trees.
This is a wonderful style to embrace when gardening with children. With a heavy emphasis on nature and lots of easy to grow flowers, this is a flower garden style that is about connection and beauty- not perfection.
How Can I Get Started With A Flower Cottage Garden?
When starting a new garden space, it's always a good idea to take your time and study your environment. No matter what the space, you can plant your own flower cottage garden with just a few tips:
First, analyze what the light in your space. Light always dictates what will thrive in your garden beds
Determine your goals, do you want to bring pollinators to your space, plant in pots, or grow lots of cut flowers? (Or maybe all 3?)
Next, make a list of 5-7 of your favorite flowers and research how much room each needs
Using a notebook and paper, sketch out your flower garden
Buy your flowers and plants and plan in late spring or fall (avoid planting in the middle of a hot summer
As you go, add more flowering plants. Take your time, study how your plants are doing, and add what you truly love!
Thank you so much for reading our article about the best flowers to grow in a cottage flower garden. We know there are many to choose from, please share your favorites below!