Blushing in hues of pale pink and boasting extra large petals, Cafe Au Lait Dahlias are a favorite for florists and home gardeners alike.
With perfect soft pink toned petals stretching 8 inches or wider, this over the top flower is a much loved and coveted dahlia. We love her ombre petals that start with a darker pink center bleeding into creamy light tones of peachy hues, much like a soft sunset.
When blooming in the flower beds, Cafe Au Lait look like beautiful light pink stars shining cheerily in the summer sun. These dahlias are truly irresistible!
Today we'll chat about the meaning and symbolism of Cafe Au Lait dahlias, how to use them in weddings and home decoration, and how to grow and care for your own beloved dahlias. (Hint: because of their size, they'll need some extra love in the garden!).
Dahlias: Cafe Au Lait
Dahlias are a flower genus that boast over 40 different species. They are native to parts of Mexico and Central America, and have been cultivated to be a popular flower grown by home gardeners and utilized widely by florists for weddings and events. With their brilliant colors and ability to bloom all season, it's no wonder they are so popular.
Cafe Au Lait are a special dahlia that are coveted for their generous, romantic blush colored blooms. They are easy to grow as long as you take care with your watering habits and give them a lot of support due to their heavy heads. Cafe Au Lait make a wonderful cottage garden flower (read this article for more cottage flower ideas).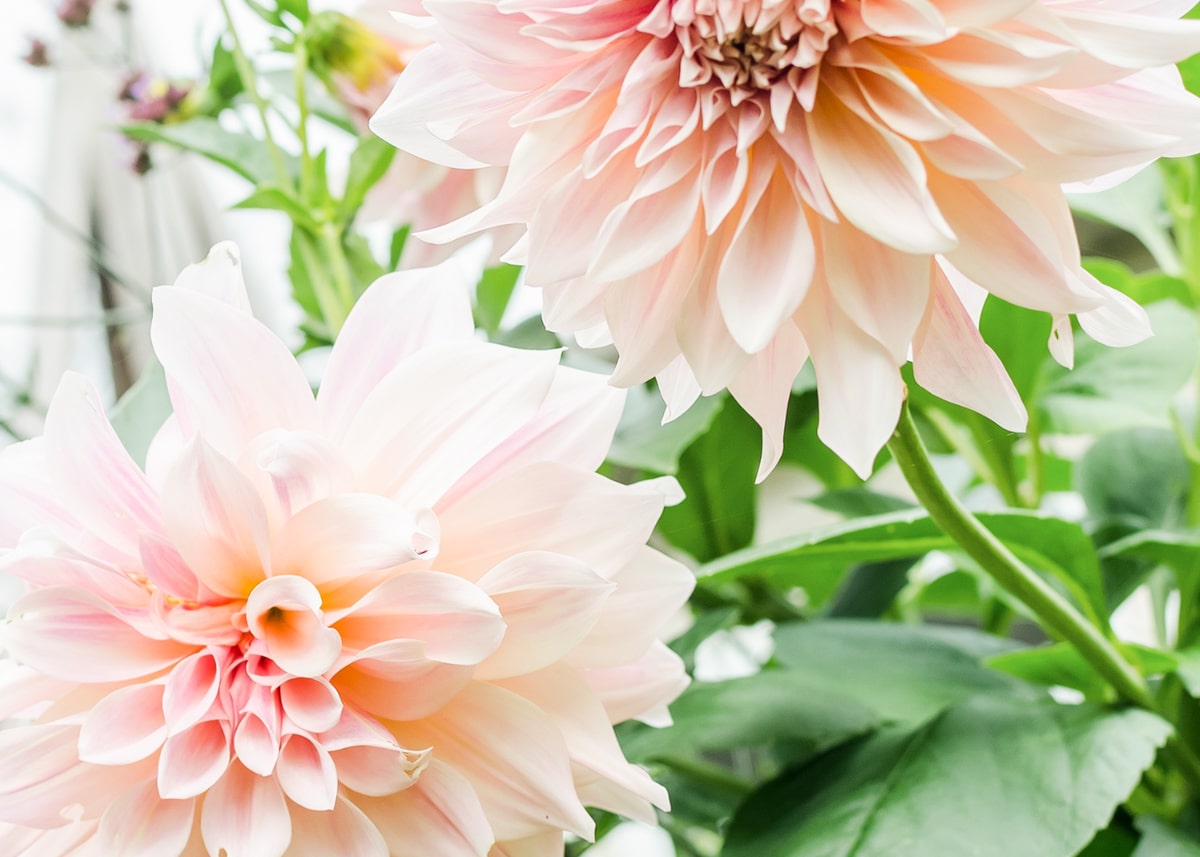 Due to their large, circular flower heads, Cafe Au Lait Dahlias are classified as dinner plate dahlias. They are also classified as decorative dahlias; dahlias defined by large, broad double petals.
Blooming in mid to late summer, these peachy pink dahlias are sun loving and can easily be deadheaded, allowing the gardener to enjoy a long blooming season. With such heavy flowers, supporting the stalks generously with stakes is a must.
Dahlias can be grown as perennials in climates warm enough, and are treasured annuals in areas that boast frosty winters.
Cafe Au Lait dahlias are beloved by florists for wedding bouquets and decoration, and are a favorite of avid dahlia gardeners as well.
Read on to learn all about these unique and highly coveted blooms!
Highlights:
Stunning, creamy petals adorn a very large flower head
Easy to grow
Amazing cut flowers
Blooms all season from mid summer to first frost
Popular for wedding bouquets and centerpieces
What Color Are Cafe Au Lait Dahlias?
In short, Cafe Au Lait dahlias can range from shades of creamy beige to light pink. They can have tones of peach, lavender, and rose.
Now, pretend you have a palette of watercolors. You take creamiest of pinks and and the lightest of peach and added a slight touch of lavender, then swirl it all heavily in white… you've got the palette of Cafe Au Lait!

Cafe Au Lait flowers are a creamy blend of light pink, peach, and a hint of purple. They are darker pink in the center of the flower, then a light pink fades to the ends. No two Cafe Au Lait dahlias are exactly the same shade, which makes them all the more special.
Size
Prized for their large, dinner plate blooms, Cafe Au Lait flowers can grow 8 to 10 inches wide! The plant itself is a large dahlia growing up to 48 inches (4 feet) in height.
Growing Zones
Dahlias originally hail from Mexico, can crave warmth and sun to thrive. They are considered tender perennials, which means they will have a difficult time surviving heavy frosts. Depending on your zone, you may grow Cafe Au Lait as either an annual or perennial.
In Zones 3-7, dahlias are typically grown as an annual, and in zones 8-11 you can enjoy your Cafe Au Lait as a perennial.
Keep in mind that growing zones are guidelines. While generally accurate, you may find yourself in a micro climate that allows you to grow dahlias as perennials. It never hurts to experiment.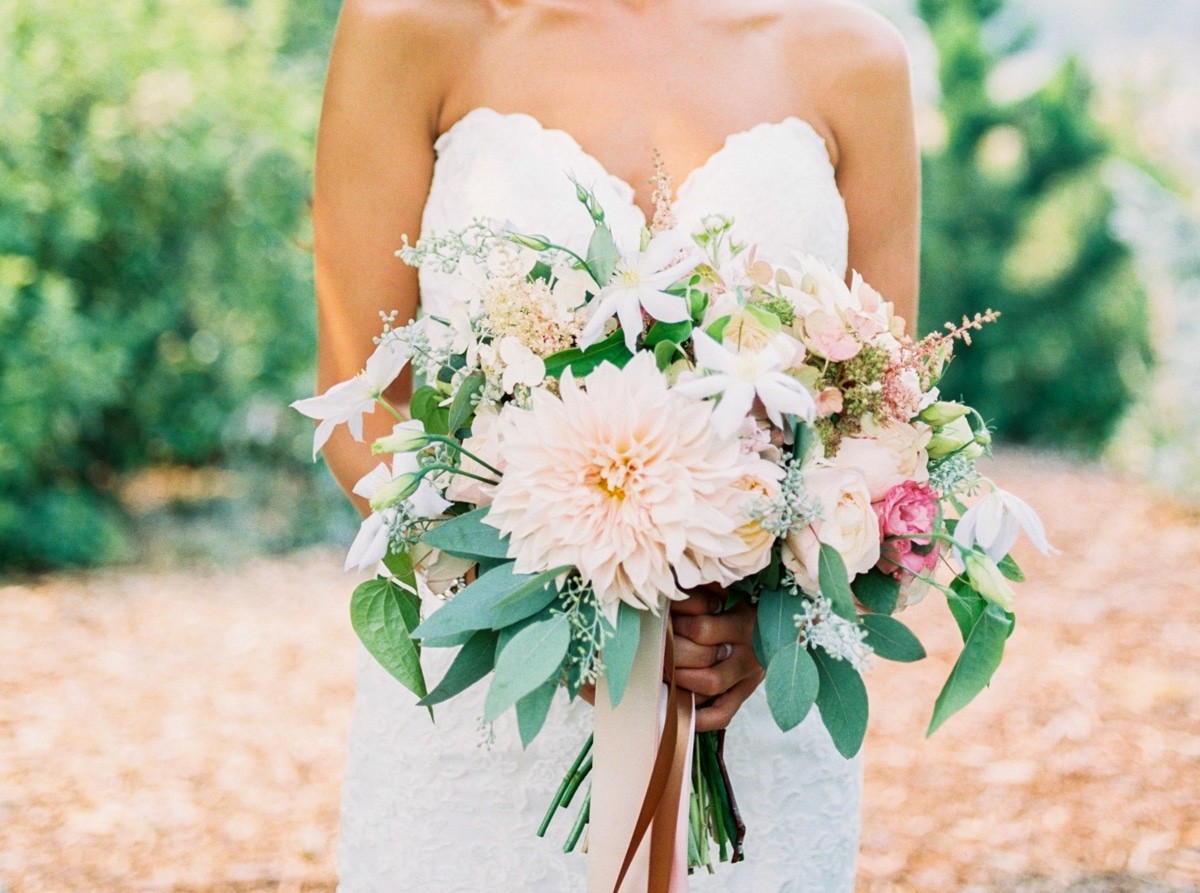 How To Grow Cafe Au Lait
The easiest way to plant Cafe Au Lait dahlias is to plant them from a tuber in late spring to early summer.
Dahlias long for warmth and long days of sun, so make sure the season of frosts have ended before planting. Choose fertile soil that drains well in a full sun location. A good rule of thumb is to plant your tuber at the same time you sow your vegetable patch.
To plant, dig a hole that is twice as large and twice as wide as your dahlia tuber. Make sure you tuber is facing eye side up, with it's growing points (also called eyes), face up. Cover with mulch in case of an unexpected frosts and mark where the dahlia is located.
Be sure to have supportive stakes and twine ready and available for support your growing dahlia!
Light
Cafe Au Lait dahlias need full sun, at least 6 hours of daily sunlight. The more sunshine she receives, the larger the blooms.
Soil
Fertile, well draining soil is essential for dahlias, including Cafe Au Lait. Avoid areas that will tend to soggy soil or standing water. Look for loose soil with good drainage. If you have heavy soil, loosen and amend it for better drainage.
Watering
It is best practice to deeply water your dahlia when the ground is dry. Do not over water your dahlia by keeping the ground constantly soaked. Excessively watered dahlia plants can lead to rot and disease.
As the plant grows, water your dahlia at the base of the plant (rather than watering the top and flowers). This ensures the water reaches the roots and helps keep the plant healthy.
Pinching Your Cafe Au Lait Dahlia
As your dahlia plant emerges from the ground, you'll want to take unexpected action in order to encourage your Cafe Au Lait to branch out and create many buds. Pinching out the center of the plant will create a bushier, stronger dahlia and encourage that many more blooms!

To pinch your Cafe Au Lait, wait until the plant is about one foot tall in growth. Identify the center, upper most branch on the main stem and gently pinch or remove it with your fingers or a pair clean of scissors.
Fertilizing
To encourage the health of your plant and gorgeous blooms, we recommend fertilizing every 10 to 14 days with a flower food formula. A high potassium, high phosphorous, and low nitrogen fertilizer will encourage large healthy plants with generous blooms.
Read our guide to the best flower fertilizers here.
Deadheading Cafe Au Lait Dahlias
An important part of caring for any dahlia and ensuring repeat blooms is deadheading. Deadheading is the important step that will keep your flower producing blooms all summer long.
Check weekly for spent blooms. Remove the dead flower by following the stem down to the first set of petals, and carefully removing with a sharp set of clean garden scissors. Cutting in this location will encourage new growth, branching, and flowering!
Do not cut the bloom off at the end of the stem, this will leave you with an unsightly plant and not encourage new blooms.
Staking
Providing support for large dahlias such as Cafe Au Lait is absolutely essential. Their beautiful large flower heads certainly are a sight to behold, but the stalks just can't support the huge flowers on their own.
Be sure to add stakes and twine as soon as your Cafe Au Lait begins to grow. They gain in height surprisingly quickly and it's important to stay ahead of their needed support.
Meaning and Symbolism (+ Uses For Weddings)
"Cafe Au Lait" is French for coffee with milk, referencing a creamy, smooth and beautiful drink. This creamy flower doesn't have any caffeine, but it will leave you buzzing from its unique beauty!
Cafe Au Lait dahlias are rich not only in beauty but in symbolism and meaning as well. Dahlias represent love and involvement, making them an excellent choice for romantic weddings. The meaning of pink dahlias, such as Cafe Au Lait, is beautiful femininity, grace and kindness. These extraordinary blooms make a wonderful addition to a bridal bouquet.
Cafe Au Lait Bouquets For Weddings
Brides can be confident in choosing blushing pink Cafe Au Lait wedding bouquets to represent their love, commitment and romance of the wedding day. Use them in beautiful lush bouquets and in centerpieces.
Be inspired: For wedding decor, pair Cafe Au Lait Dahlias with smaller and darker toned dahlias, garden roses, passionflowers, stock, eucalyptus, or ranunculus. Avoid large competing blooms such as peonies or other dinner plate dahlias. Let Cafe Au Lait be the star of the show!
A note from the cottage gardener: In my previous life, I was a wedding photographer. Whenever a florist would email to share that dahlias were on the lineup, I knew the wedding would be stunning.
Dahlias were not only splendid to photograph, but added an absolute elegant touch to the wedding decor, and their gorgeous blooms lasted from dawn until dusk. Due to a long growing season, dahlias are also an affordable flower to incorporate into their decor.
Conclusion
Cafe Au Lait dahlias are truly a delight to behold, and a flower of significant use and important in the wedding industry.
Are you a home gardener who loves dahlias? Leave us a comment and let us know how Cafe Au Lait has inspired you and added beauty to your life.
Love romantic flowers? Visit our list of pink peonies for more ideas!