Gorgeous Annuals for Full Sun
Today we are sharing the best flowering annuals for full sun.
Are you looking to spruce up your flower beds this spring? Maybe add some color and vibrancy?
There are many beautiful flowering annuals to choose that can add dimension and color to your flower beds. We are sharing the ultimate list of flowering annuals here. But first…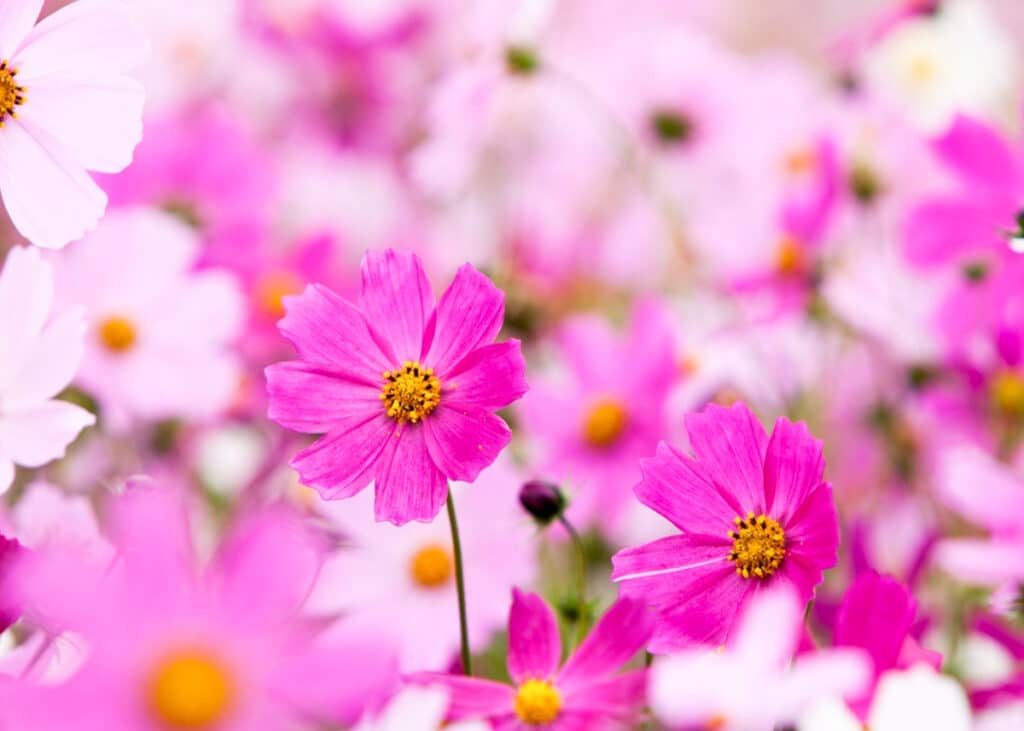 What Is A Flowering Annual?
A flowering annual is a plant that flowers during the warmer spring and summer months. The entire plant dies once autumn frosts hit.
An annual is a plant that blooms for one season only. Annuals do not come back each year.

A plant may act as a perennial in one climate and an annual in another, depending on weather.
Benefits Of Planting Full Sun Annuals
Purchasing annuals allows you to spruce up the flower bed for summer with plants that don't grow well in your zone the rest of the year.
You can increase the variety of flowers in your garden during the summer season by purchasing annuals.
Many annual flowers attract attract bees and butterflies, providing fodder for hungry pollinators.

And they help create a garden full of charm and beauty.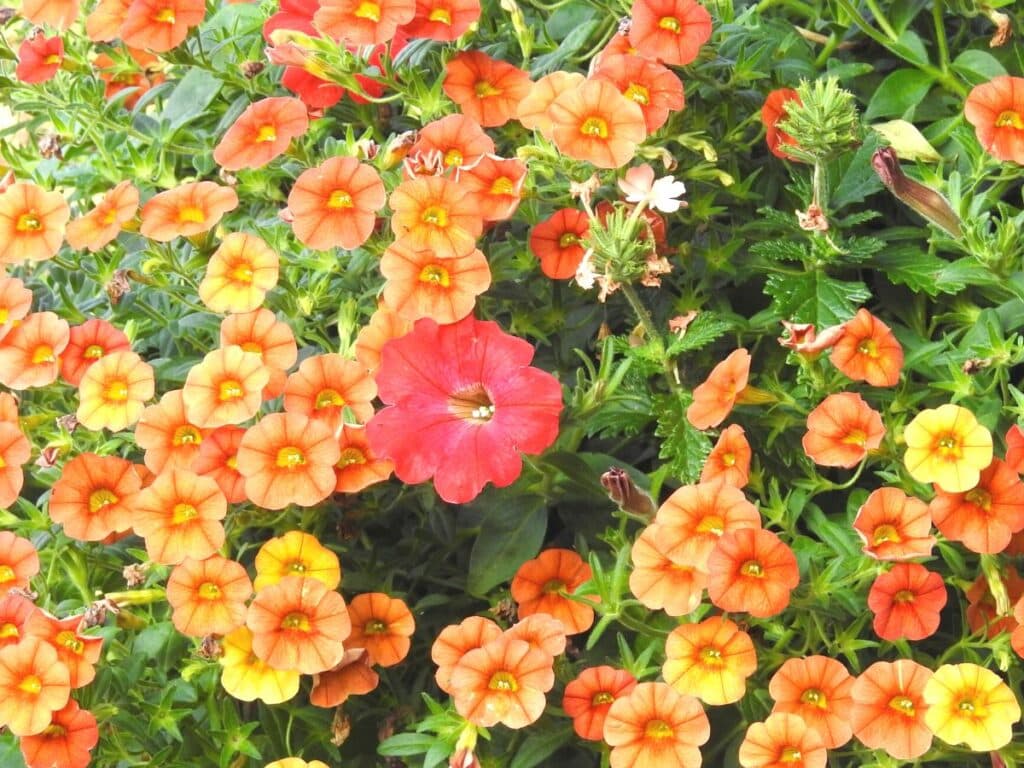 Where To Plant
Annuals can be planted directly into flower beds, containers, raised beds and hanging baskets! Most annuals like loose, well draining soil.
What Does Full Sun Mean?
"Full sun" Is a light requirement that can be ambiguous in meaning. Some annuals, like sunflowers, crave all day sun and can tolerate 10 hours of direct summer heat.
Others do well with just 4 hours of direct light (we've had success with this amount of light with petunias).
For most flowers, full sun simply means between 4 to 6 hours of direct sunlight. Every plant is different, so be sure to research your specific flower for best results.
The Best Flowering Annuals For Full Sun
These are some of the best annuals for full sun to brighten up your flower beds this spring! Many of these flowering annuals bloom all summer, so you'll be able to enjoy pops of color and vibrancy all season.
Sunflowers
Nothing says summer quite like the sunflower.
These excellent pollinator attracting flowers with their cheery faces are so easy to grow.
From dark red to light yellow, they come in a wide array of colorful hues. Sunflowers are one of the easiest flowers to grow!
Get creative and add variety by planting red sunflowers or dwarf sunflowers.
As an added bonus, sunflowers are also inexpensive and tolerate poor soil.
Zinnias
Zinnias are a prolific annual that bloom all summer.
They are very easy to grow from seed, and are available in many vibrant colors.
Zinnias make an excellent cut flower, and children often love to plant and enjoy them.
Learn how to keep your zinnias blooming all summer here.
Petunias
Famous for their cascading flowers, petunias add brilliant color to the summer garden.
Petunias are a popular flower for hanging baskets, window sills, and containers.
These beautiful flowers come in many colors and varieties, providing a fun way to add texture and vibrancy to the summer flower garden.
Nothing says summer quite like an overflowing basket of petunias!
Heliotrope
Heliotrope is vibrant purple, fragrant, and grown as an annual in most zones.
This unique flower has a delicious vanilla scent that is irresistible to bees and butterflies.

It's foliage is deep green with lovely purple blooms.
Classified as a half hardy perennial, heliotrope survives the winters only in zones 9 and 10.
You can try overwintering your heliotrope by growing it in a pot and bringing it inside during winter.
Cosmos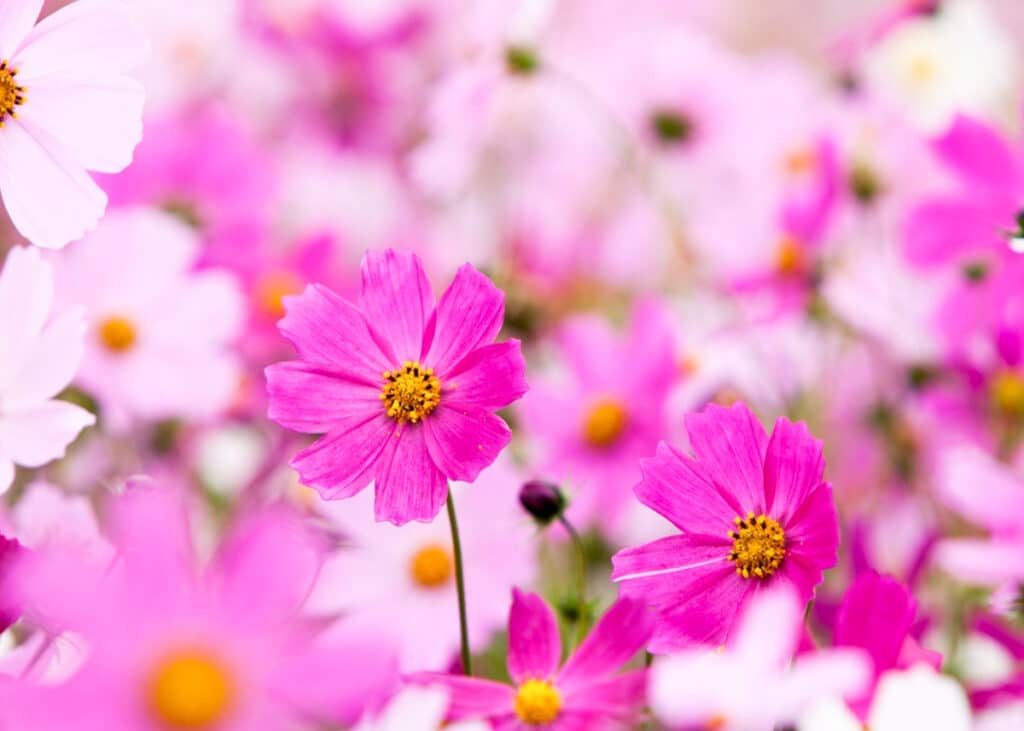 Cosmos are a cheerful and easy to grow annual that come in a wide array of colors and shapes.

When planted from seed, cosmos provide an incredible value. One pack of cosmo seeds can result in literally thousands of blooms!
Cosmos are an easy to grow flower that can be used in arrangements.
As an added bonus, you can collect cosmo seeds for the following season!
Snapdragons
Snapdragons are charming cottage styled flowers that are coveted for their vibrant shades and unique shape.
These popular flowers can be grown as short lived perennials, however they are most commonly purchased and bought as annuals.
Snapdragons are a long blooming flower that will bloom up until the first frost when watered and cared for.
Osteospermum
Osteospermum, or African Daisy, are grown in many climates as an annual.
They boast a brightly colored petal that come in vivid shades of pink, purple, or white.
Dahlias
Dahlias are a popular heat loving flower that can be growing as an annual in many zones.

There are hundreds of varieties of dahlias, featuring small, petite blooms or oversized dinner plate dahlias like Cafe Au Lait dahlia.
If you live in a colder climate, you can dig up your dahlia tubers and re plant them in late spring to early summer!
Visit your local nursery in spring to find your favorite variety of this famous flower variety.
Marigold
Marigolds are a classic flower that many traditional gardeners plant alongside their vegetable gardens to attract pollinators.

They come in bold colors of orange, yellow, and red. Don't be afraid to plant marigolds in your flower bed for a bold splash of color.
Lobelia
Sky blue lobelia are a trailing vine adorned with tiny flowers that often accent larger flowers in hanging baskets.

Lobelia is grown as an annual in most climates. Plant lobelia as a flowing flower in hanging baskets, containers, and window boxes.
Calibrachoa
Sweet and dainty, calibrachoa comes in tiny flowers of white, pink orange, red and lavender tones. This tiny bud is often seen in hanging baskets, containers, and window boxes.
Plant alongside lobelia, petunias and potato vine for a lush display of overflowing flowers.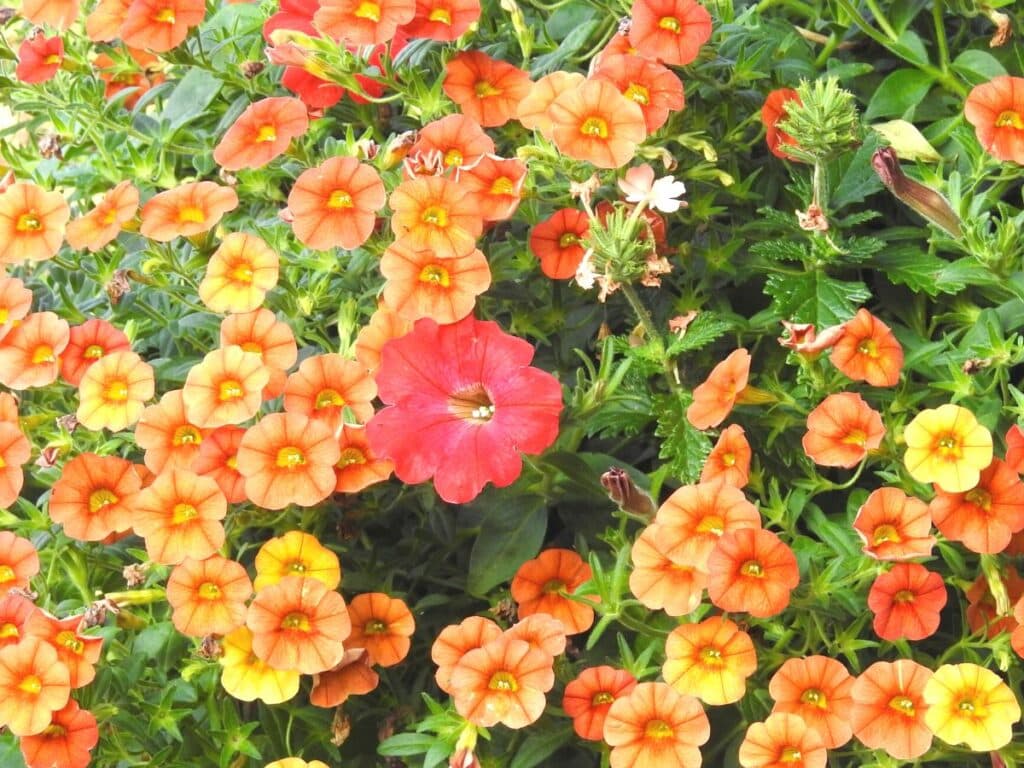 Lantana
Lantana is a tropical flower that features brightly colored hues against darker foliage.
It's bold colors attract bees and butterflies, making lantana a perfect annual for a butterfly garden.
This annual really packs a powerful punch when it comes to color!
Lotus Vine
Also known as parrot beak, lotus vine is a unique fiery orange flower.

These quirky flowers are often planted in hanging baskets and are very heat tolerant.
Lotus vine pair well in hanging baskets alongside petunias, verbena and potato vine.
Full Sun Annual List
Need a quick and easy check list list of our favorite recommended full sun annuals? Here they are:
Sunflowers (from seed)
Zinnias (from seed)
Petunias
Heliotrope
Cosmos (from seed)
Snapdragons
Osteospermum
Dahlia
Marigold
Lobelia
Calibrachoa
Lantana
Lotus Vine
When To Purchase Annuals For Full Sun
Now that you have ideas for flowering annuals, you may be wondering when to purchase them.