21 Best Companion Plants For Lavender (Easy To Grow!)
Lavender plants bring a relaxing aura to the garden. These fragrant herbs thrive in full sun and have beautiful, fragrant flowers. There are many great companion plants you can pair with lavender that require the same light and soil and will add to the peaceful ambiance of your garden.
When choosing companion plants for lavender, seek out plants that have similar growing needs. This will allow you to fill the garden bed with one type of soil and encourage a consistent watering schedule.
Originally from the Mediterranean region, lavender is a versatile plant that grows well in zones 5-9. This aromatic herb does not need much water and prefers warm verses cold climates. Lavender attract beneficial insects to the vegetable garden and as a flowering perennial stay green all year long.
Lavender Companion Plants (What To Look For)
A good companion plant for lavender will be a flower or herb that can grow alongside of lavender harmoniously. Plants that also enjoy the hot sun and sandy, well-draining, unfertilized soil will also make great companions for lavender.
Drought-tolerant plants and heat-loving plants are perfect companion plants for lavender.
Most of these plants are very easy to grow because they can grow with little water and thrive in poor soil!
(To find out what grows in your area, check your USDA hardiness here).
21 Best Lavender Companion Plants
Here are the top 21 garden plants that will thrive alongside lavender plants.
Blanket Flower
Hardy in zone 3-10, Blanket flower is a vibrant yellow orange flower that grows on a low mound. Blanket flowers thrive in full sun and enjoy poor soil, making a perfect companion plant for lavender. Just like lavender, they enjoy hot, arid climates and full sun.
With their bright and bold hues, perennial blanket flowers make a striking contrast when paired with the soft tones of lavender.
Cosmos
Cosmos are a beautiful addition to the flower garden and they thrive in full sun. This low maintenance flower can tolerate poor soil making it the perfect companion plant for lavender.
Cosmos and lavender will bring the beneficial pollinators buzzing to your garden space. Some varieties of cosmos grow to be quite so tall, so choose small varieties or plant east of lavender to prevent shading your lavender flowers. Like lavender, cosmos require little water and enjoy soil with good drainage.
Blue Fescue
Craving dry soil and full sun, Blue Fescue is the perfect companion plant for lavender. With similar growing needs, blue fescue will thrive in close proximity to lavender. Blue fescue is an ornamental grass with long spikes. It can add texture and dimension grown alongside lavender bushes in the flower beds.
Hot Lips Salvia
It's no secret that we love Hot Lips salvia. This beautiful salvia plant enjoys full sun and attracts hummingbirds and butterflies. Hot Lips Salvia can thrive in moderately fertile soil, just like lavender. Drought tolerant and easy to grow, this bold sage will thrive alongside lavender and add vibrant color to the garden beds.
Yarrow Plants
With their love of full sun and heat, yarrow make an excellent companion plant for lavender. These plants feature soft green leaves and pastel flowers in purple, white, pink and yellow. They make a lovely accent flower for lavender and can also tolerate dry conditions.
Like lavender yarrow enjoys sandy well draining soil. This hardy perennial makes a great choice for a lavender companion plant.
Roses
Roses and lavender are a classic pair that add a romantic flair to the garden space. Both rose bushes and many lavender varieties start blooming in early summer, and both give beautiful fragrance to the flower garden. Floribunda roses (or shrub roses) overflow with many flowers and will bloom in clusters until late summer. Like lavender, roses enjoy full sun and need well draining soil.
Take a tour of the beautiful Portland Rose Garden with us here.
Fruit Trees
Since different species of lavender attract bees, they can be valuable planted near fruit trees. Pair early blooming lavender varieties such as English Lavender with pear or apple trees for the benefits of pollination.
Lavender also deters coddling moth, which can destroy fruit trees. Plant lavender around the peripheral of the orchard, out of the way of any shade.
Sage Plants
Sage can tolerate similar conditions to lavender: lots of full sun, well draining soil and little water. And, both sage and lavender can tolerate intense heat. Sage plants bloom in beautiful blue and purple flowers. The tones of lavender and sage compliment each other for an inspiring Mediterranean garden.
Tip: Try creating an edible herb garden out of the Mediterranean herbs sage, rosemary, lavender and oregano.
Rosemary
Rosemary is an aromatic herb that compliments lavender perfectly. This fragrant herb craves the same growing conditions as lavender, so you can plant rosemary in full sun with well draining soil of medium fertility.
Rosemary is not as cold tolerant as lavender so when growing in colder zones be sure to mulch heavily prior to winter. This hardy herb will remain evergreen all year, and can be added to home cooked dishes such as roasts and soups.
We have a whole article on French lavender here-check it out!
Thyme
Thyme is a delicious, fragrant herb that pairs well in a garden with rosemary, sage and lavender. This drought tolerant herb loves full sun, making it an easy companion for lavender.
It's variegated green-yellow leaves look lovely paired with other muted colors. Plant thyme in well draining soil and enjoy it's pungent aroma. Add to culinary dishes for extra flavor and health benefits. Let thyme flower to attract even more bees and butterflies to the yard.
Learn how to attract hummingbirds to your yard here.
Oregano
Oregano is an aromatic herb that aides lavender by repelling aphids. This garden herb is easy to grow and offers wonderful flavor and medicinal value for the home kitchen. Oregano can tolerate shade when growing around taller plants (such as lavender). The essential oils found in both lavender and oregano offer many health benefits.
Black-Eyed Susan
Black-Eyed Susan are a sun loving plant that are can grow in a variety of soils. Though they crave fertile soil, this tough plant can also adapt to poor soil conditions, making it the perfect companion for lavender.
Like lavender, Black Eyed Susan need well draining soil and enjoy heat. The bright yellow flowers feature dark, bold centers making them a beautiful contrast for lavender plants.
Sedum
Sedum are a diverse group of drought tolerant plants available in many colors, sizes and forms. These hardy ornamental plants are not picky about soil, can tolerate intense heat, and need very little water.
They attract bees and butterflies and are incredibly easy to grow. In short, sedums are a match made in heaven for planting with lavender. Try red valerian for a burst of vibrant color.
Shasta Daisy
Shasta daisies make a charming companion plant for lavender. Like lavender, easy to grow Shasta daisies crave full sunlight and need well draining soil in order to prevent root rot. Shasta thrive in zones 4-9 and make excellent cut flowers.
This perennial plant provides many blooms throughout summer. Pair lavender and Shasta daisies for a quaint cottage styled esthetic around your home! (Get more cottage styled flower ideas here).
African Daisy
African daisies add vibrant purple tones of purple, orange and yellow. These vibrant bloomers will accent lavender beautifully and crave similar growing conditions.
They thrive in full sun and need well draining soil (like so many of the plants listed here!). African daises need a slightly more fertile soil than lavender. You can apply a layer of compost around the daisies in early spring for added nutrients.
Get our list of the best sun plants that bloom all summer long here!
Catmint
With soft green foliage and light purple flowers, catmint is a romantic perennial companion plant to lavender.
The beautiful soft color palette of lavender, catmint and salvia are one of the prettiest combinations to grow together. These different watercolor shades of purple will add an artistic feel to the garden and all three plants are tolerant of heat, full sun and sandy soil.
Catmint will bloom twice in one season, just cut back the first flush of flowers to get your second set of beautiful flower spikes.
Sunflowers
Sunflowers are drought tolerant, love full sun and are incredibly easy to grow- the perfect soul mate for lavender. We recommend pairing low growing miniature sunflower varieties with lavender.
Dwarf sunflowers are adorable and charming, and paired with lavender will add a cozy cottage feel to your garden beds. And wild sunflowers would look lovely alternated throughout heat tolerant garden beds filled with lavender. We rate sunflowers as the most low-maintenance plant in the garden.
Learn all about wild sunflowers here.
Zinnias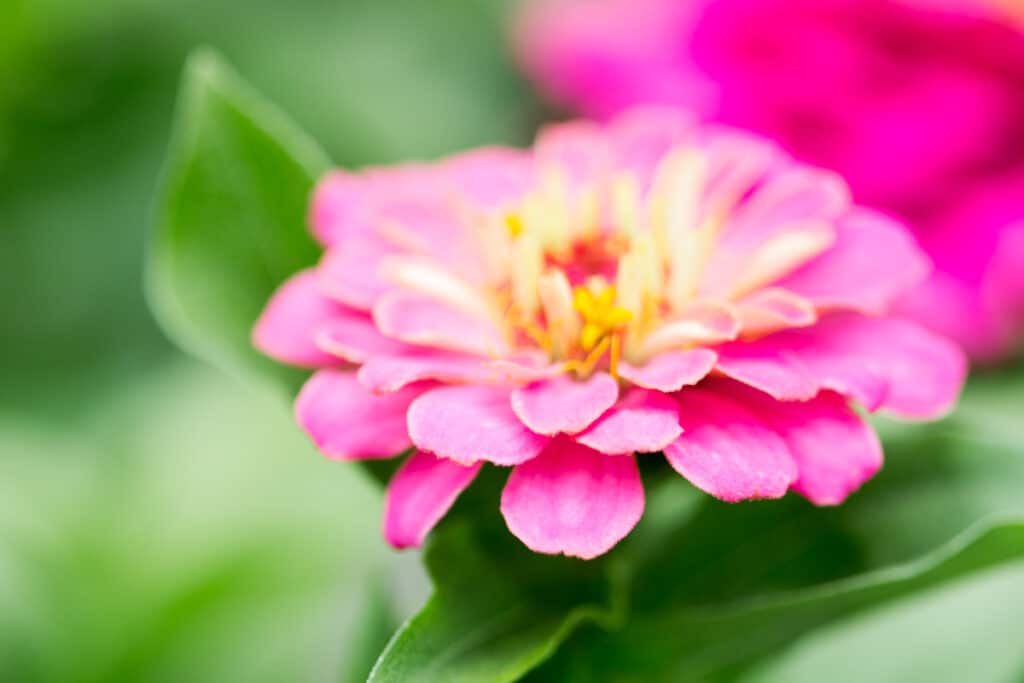 Zinnias are an easy to grow lavender companion plant that thrive in full sun and will produce many gorgeous blooms throughout the full summer. When planting zinnias alongside lavender, make sure to note that zinnias need a different soil type.
Zinnias crave rich, fertile soil, while lavender do well in moderately fertile soil. You can easily address this issue by fertilizing the soil just around the zinnia seeds.
Zinnias come in many colors. Choose pale pinks and yellow hues to complement lavender spikes in bouquets.
Learn how to grow zinnias in containers here!
Chicks+Hens (Succulents)
The popular succulents nick named chicks and hens are very adaptable and heat tolerant. They are an excellent low growing plant to pair with lavender. These succulents are drought tolerant and will spread, filling your your garden space with heat loving cheer.
Plant them in well draining, sandy soil and water infrequently, just as you would with lavender. Succulents can be grown as a ground cover in between your heat loving plants.
Lantana
Lantana are colorful flowering annuals that come in pink, purple and yellow flowers. Heat loving and drought tolerant, this flower is easy to grow and enjoys well draining sandy soil.
Lantana tolerate dry conditions and typically need to be watered once a week. With their colorful blooms and pretty foliage, lantana look beautiful overflowing from the flower bed and are a good choice paired with lavender.
Echinacea purpurea (Purple Coneflower)
Both echinacea and lavender feature striking purple hues and work well together in an herb garden. Bursting with culinary uses, these two plants are both featured in herbal teas.
Both echinacea and lavender thrive in full sun and enjoy loose, loamy soil. Echinacea is drought tolerant, making it the perfect match for lavender. Both of these two plants can grow in USDA zones 5-9. Echinacea is an easy to grow perennial, so you can plant it once and enjoy it alongside lavender for years to come.
Marigold
Marigolds are a classic summertime flower. Luckily, these plants pair very well with lavender. Both love full sun and have low water needs. Soil needs to be well draining for both plants to thrive. Marigolds are drought resistant and will attract pollinating insects.
Make sure to plant them in a location well they will receive full sun! We think strawberry blonde, creamy white and yellow hued marigolds compliment lavender the best.
Benefits Of Companion Planting With Lavender
There are many benefits to companion planting: from growing plants that all love the same amount of sunlight to pairing herbs that keep insects and pests away from flowers.
Here are just a few reasons you should consider a companion planting approach with your lavender:
Similar soil needs. Choosing beautiful flowers that have the same soil needs will make your life easier. While you may have to amend the soil a little bit for certain plants, keeping plants who enjoy moderately fertile soil that is well draining will make gardening easier.
Similar sunlight needs. Choosing companion plants with similar sunlight needs means that all your plants will thrive together. With lavender choose plants that love full sun and can tolerate heat. Late afternoon shade usually works as well.
Drought tolerant Plants. Great lavender companion plants require little amount of water. Surrounding lavender with similar plants makes for a quick, no think watering approach. As an added bonus, you won't have to water much, which saves money!
Color! Companion planting allows you to experience a variety of colors in the garden. Pair lavender with cosmos, zinnia, sunflower and salvia for bursts of color all summer long. Or, go with the muted tones of lavender, catmint, and oregano for a soft and relaxing feel.
Deters pests. Companion planting can deter insect pests from attacking vulnerable plants. Oregano, for example, can help deter pesky insects that are harmful to lavender and other plants.
Creates an aromatic escape. When planted together the strong scent of lavender, oregano and rosemary can create an herbal getaway. As an added bonus all of these herbs can be used when cooking.
What To Avoid Planting With Lavender
There are many plants that will not thrive alongside lavender. Lavender loves warm climates, sandy soil, and drought like conditions. Plants that have similar needs make good companions for lavender.
Avoid planting any herbs or flowers that need partial shade or fertile soil in the same area/soil as lavender.
As an example, the mint family is one herb that will not do well with lavender. Mint needs moist, well draining soil and afternoon shade.
Final Thoughts On Lavender Companion Plants
Lavender is a soothing plant that makes a great addition the the herb garden for flower beds. Luckily, lavender pairs well with many other plants, allowing you to design a beautiful garden around a variety of plants that have the same needs.
Some of our personal favorite lavender plant companions are echinacea, catmint, zinnias and salvia. Let us know in the comments what plants you pair with lavender this year!
Do you love colorful flowers? Learn to grow snapdragons in pots here!