23 Sun Plants That Bloom All Summer Long
Today we are sharing the best list of flowering plants that bloom all summer and enjoy full sun!
When late spring arrives flower gardeners everywhere start to get the itch for beautiful blooms. And the best plants, of course, are the ones that produce gorgeous flowers all summer and love the sun shine!
You will find both perennials and annual plants that produce flower blooms for a long time and enjoy lots of golden sun light right here.
Sun Loving Perennials That Bloom All Summer
These perennial plants enjoy full sun and and will brighten up your garden beds with their beautiful blooms in the summer months. Perennial plants bloom all summer, die back in the fall, and then return the next season and bloom again the following year.
All of these perennials can be grown in full sun, with notes made for those that crave afternoon shade.
Perennial flowers bring lots of colorful joy and attract many bees, butterflies and hummingbirds to the backyard!
Catmint
Catmint is romantic and flowing with long lavender spikes that pollinators love. This lovely flower is at the top of our list for sun loving perennials flowers.
These lovely full sun bloomers are actually an herb and will first bloom in spring to mid summer. Cut them back to get another rush of purple flowers. Catmint is easy to grow, drought tolerant and enjoys both full sun and partial shade.
This pretty aromatic herb is a drought tolerant herbaceous perennial. (Catmint looks especially lovely grown alongside lavender!).
Bloom Time: Spring + Summer
Read about the best early spring flowers here.
Blanket Flowers
Bright yellow with orange centers, blanket flowers bloom like a field full of tiny setting suns.
Flowering from early summer to fall, blanket flowers have a long lasting bloom that make a gorgeous ground cover.
These beauties are drought tolerant and are often found adding vibrant color to rock gardens. Blanket flowers adorn a beautiful sage colored leaf and are considered very easy to grow. They grow best in well draining sandy soil with full sunlight!
Bloom Time: Early Summer-Fall
Ice Plant
Ice plants are a hardy succulent with perky bright pink flowers sure to brighten up any backyard. Enjoying drought conditions, these tough plants are extremely easy to grow. Ice plants enjoy sandy, well draining soil and are another excellent choice for rock gardens.
Ice plants come in bright yellow, purple or pink flowers and enjoy many hours of sun each day. This plant is wonderful for the negligent gardener, because they only need to be watered once every two weeks. Look for varieties with a long bloom time.
Roses
Roses are an elegant and iconic flower and the modern varieties bloom all summer long. These fragrant flowers come in many different sizes, a wide range of colors and a variety of forms. Every flower gardener is sure to find a rose they love.
Roses start blooming in the beginning of spring and if dead headed regularly will continue to bloom until first frost. They cycle through their blooms over a period of 5 to 7 weeks, and will produce additional flowers readily when the spent blooms are pruned. These fragrant flower comes in literally thousands of varieties, from miniature roses to climbers.
We recommend you browse Jackson and Perkins for rose flower inspiration.
Bloom: Spring- Fall
Be inspired with this beautiful tour of the Portland Rose Garden.
Hydrangeas
We are including hydrangeas in our list because we love them so, but keep in mind that they thrive with morning sun and afternoon shade.
While hydrangeas only bloom one time during a season, they begin blooming in late spring to early summer and their beautiful blooms last all summer. Hydrangea are a great choice for filling in borders. They love afternoon shade and need moist soil to thrive. Give them lots to drink in well-drained soil. Hydrangea blooms are ball shaped and come in romantic shades of pink, purple or blue flowers, which last until early fall.
Hydrangeas do not enjoy intense afternoon heat so be plant them in a spot where they can rest in the afternoon!
Bloom time: Early Summer-Fall
Check out other cottage styled flowers here.
Dahlias
Dahlias are famous for their prolific blooming habits and showy flowers. Just one dahlia plant can produce hundreds of flowers each summer and will bloom into late fall! Dahlias come in a wide variety of colorful blooms and they make excellent cutting flowers.
These beautiful flowers love all day sun and are the perfect choice for gardeners looking for great cut flowers. As a bonus, dahlias add beautiful fall color when many other flowers are starting to fade. Regular deadheading is essential for encouraging your dahlia plant to bloom all season.
Read our guide to growing dahlias here and learn how to dead head your flowers for more beautiful blooms right here.
Bloom Time: Mid Summer-Late Fall
Black Eyed Susans
Black-Eyed Susans feature dramatic dark brown centers off set by bright yellow flowers. These cheerful flowers typically bloom from June to early August.
Black-Eyed Susans have a large flower, about 2-3 inches, which attracts pollinators. They make excellent cut flowers and are drought tolerant. Avoid over crowding your Susans to prevent powdery mildew and other fungal diseases.
Some Black Eyed Susan varieties are annuals, so be sure to check for winter hardiness when purchasing.
Bloom Time: All Summer
Read our beginner's guide to flower gardening here.
Salvia
Salvia is a beautiful, long stemmed herb that attracts hummingbirds and butterflies.
A heat tolerant plant, salvia require little water and have a long lasting bloom. We love Hot Lips Salvia for her bright, two toned flowers and ability to attract hummingbirds like crazy. In colder climates, winter over hot lips salvia by either keeping it in a container and moving it into a sheltered area or mulching heavily to protect the plant.
Salvia is deer resistant, making it a wonderful plant for rural gardeners to consider.
Bloom Time: Summer-Fall
French Lavender
French lavender has elegant flowers on long stems and is a perennial herb that blooms all summer long. In warmer climates, French lavender will even bloom all year!
These heat-tolerant plants thrive in sandy soil and full sun. French lavender plants start blooming in mid spring and will continue blooming until the cold winters set in. Immediately deadhead after the first rush of blooms in spring to continue to see new flowers.
Lavender is full of relaxing herbal benefits and is a calming presence in the flower garden.
Bloom Time: Spring-Fall
Shasta Daisy
Shasta daisies are cottage style flowers well known for their long white petals and yellow centers which adorn thin stems. They are herbaceous perennials that add charm and dimension to the cottage garden.
These excellent cutting flowers bloom a long time and are deer resistant. Shasta daisies make a cheerful perennial border and will bloom the first season of growth. Growing in clumps, they attract butterflies and grow to be about 4 feet tall.
Plant different varieties to keep a bloom around the entire summer.
Bloom Time: Summer-Fall
Russian Sage
Lavender blue flowers adorn tall spikes on Russian sage. This beautiful sage plant produces flowers that make a stunning impact in the perennial garden. The foliage is a unique silver green that pairs well with lavender and cat mint for a muted, English inspired garden bed.
Russian sage needs loose, well draining soil and full sun. This beauty will bloom from mid summer until the first frosts of autumn.
Bloom Time: Summer-Fall
Hardy Fuchsia
Hardy fuchsia are a long blooming perennial that attract hummingbirds to their neon pink, tubular flowers. These upright fuchsia plants differ from their shade loving cousins whom you'll often find in hanging baskets. Hardy fuchsia are longer stemmed shrubs that do well in borders and flower beds.
Hardy fuchsia grow best in full sun and come in a variety of colors: pale pink, purples, bright reds and whites.
These long-blooming perennials are easy to grow and are one of the best plants for attracting pollinators! Mulch well to over winter successfully.
Bloom Time: June-Fall
Rose Of Sharon
Romantic and colorful, Rose Of Sharon boast hundreds of ruffled, colorful flowers. These hardy shrubs come in a wide variety of colors: white, pink, purple, and yellow.
They love full sun and the bloom lasts from mid summer until fall! These colorful plants can grow quite large, up to 12 feet tall, and attract bees, butterflies, and hummingbirds.
Rose of Sharon does well with full sun and can tolerate partial shade. Make sure soil is well draining. With their prolific blooms and romantic ruffled petals, these beautiful full sun perennials are one of our favorites for a cottage style garden.
Bloom Time: Summer-Fall
Learn about flowers that attract hummingbirds and butterflies here.
Purple Coneflower (Echinacea purpurea)
Echinacea often goes by its common name, purple cone flower. Whatever you prefer to call it, we love this bright, long lasting perennial bloom. Echinacea is a stunning perennial that boasts luminous flower petals that glow in a pinkish purple hue.
Bees love purple coneflower, so include them in your pollinator garden!
Purple coneflower are a herbaceous perennial that bloom every year and thrive in full sun.
Bloom time: From June To August.
Yarrow (Achillea millefolium)
Yarrow are sun loving perennials that feature muted yellow, pink and white flowers atop green ferny foliage. Native to North America, yarrow is very drought tolerant and incredibly easy to grow.
Butterflies love the umbrella like clusters of yarrow flowers.
Yarrow enjoy dry, hot conditions and loose, well-draining soil. These hardy perennials bloom from early spring to late fall. They are one of the best flowering plants for busy gardeners who don't have a lot of time to pamper their flowers.
Bloom Time: Early Spring- Late Fall
Annual Plants That Love Sun + Bloom All Summer
These annual flowering plants love sun and will bloom all summer. While annuals won't return the following year, they allow you to spice up the garden beds with new flowers for the summer season.
Keep in mind that you do need to dead head, or remove spent flowers to keep most of them blooming.
Cosmos
Cosmos are a popular cutting flower that brighten up the flower beds with endless blooms starting in July. They do best in sunny spots and are a great addition for a bee and butterfly garden. Cosmos have multi petaled daisy-like flowers and bloom in pink, white and yellow flowers.
Cosmos flowers are low maintenance, requiring little water… just dead head them regularly for additional blooms! Learn more about cosmos flowers and their bloom time here.
Bloom Time: Mid Summer-Fall
Sunflowers
It's no secret that we love sunflowers around here, and for good reason! These iconic summer flowers come in so many colors and sizes and they have a long lasting bloom.
Plant a variety of sunflowers at different times, starting in early spring, to get a succession of blooms all summer long. Some of our favorites are dwarf sunflowers, red sunflowers, and wild sunflowers.
Best of all, sunflowers require no special care and are a good choice for those of us who have a busy summer and may not be able to water regularly.
Bloom Time: Mid Summer-Fall
Zinnias
Zinnias are bright, cheerful annual flowers that bloom and bloom and bloom! These perky flowers are a classic for a summer garden, and are very easy to grow.
Children enjoy the vibrant colors and they come in many fun shapes and colors! This low-maintenance plant just needs to be dead headed to produce more blooms and watered deeply a few times a week. Zinnias grow very easily from seeds and are easy to grow in containers.
Bloom Time: Mid Summer-Late Fall
Most annuals need to be properly dead headed in order to keep blooming. Simply follow the stem of the spent flower down to the first set of leaves and remove here. This will encourage lateral branching with more flower buds blooming at the end of each new branch! Given the right care, these cut and come again annual flowers will give you hundreds of blooms each summer.
Geraniums
Geraniums are an annual known for their bright red flowers and love of sunlight. These popular flowers begin blooming in spring and if dead headed properly, will continue producing blooms until fall. Geraniums are very easy to grow!
Though red is a popular geranium color, they also come in gorgeous shades of light pink, coral, white and orange.
Geraniums are often planted in containers and hanging baskets. Allow soil to dry out in between watering.
Bloom Time: Spring-Fall
Marigolds
Marigolds are an excellent choice that add both cheer and many benefits to the garden. These bold flowers are beneficial for the vegetable garden in several ways: they ward off deer with their aroma and attract bees and butterflies.
The ruffled, showy flowers of marigolds come in many shades of orange, yellow, gold, and red.
Remove spent marigolds regularly to see more beautiful blooms.
Bloom Time: Early Summer-Late Fall
Petunias
Petunias are famous for their bountiful cascading flowers that last all summer long. With their tubular shape and bold colors petunias are a hot spot for hummingbirds and butterflies.
You will often see petunia baskets filled to the brim in summer along warm city sidewalks. Petunias can take heat, but they do need regular watering to stay healthy and lush. Purchase petunias from garden centers in mid spring and be prepared for a summer full of gorgeous blooms.
Both petunias and million bells flow beautifully from window boxes, and we think you should plant them there alongside miniature zinnias!
Bloom Time: Mid Spring Until Frost
Million Bells (Calibrachoa)
Million Bells are tiny versions of petunias that cascade beautifully out of hanging baskets and containers. We love how colorful million bells are and how long the flowers last throughout the growing season, without deadheading. Million bells are small flowers (about one inch across), and come in many bright colors with vibrant green foliage.
You can purchase million bells from gardening centers in mid spring after all danger of frost has past. Million bells are wonderful paired with petunias and potato vine.
Bloom Time: Early Summer-Fall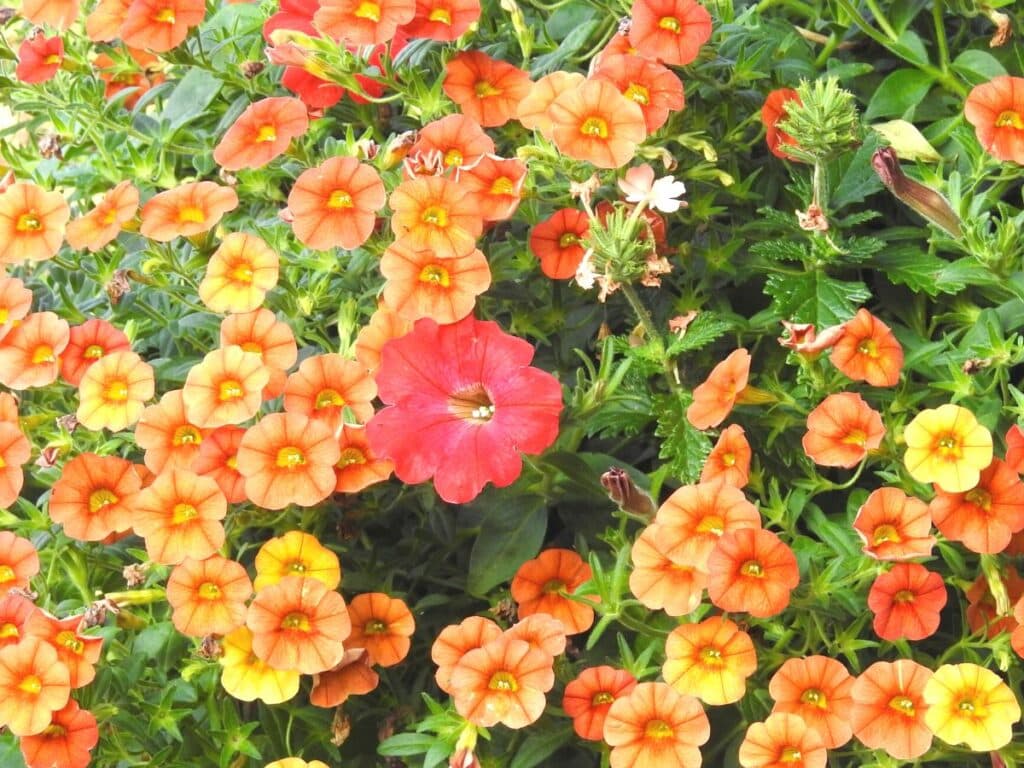 *Million bells can become heat stressed, so setting your basket in an area that gets afternoon shade can be a wise idea.
FAQ
What are the best low maintenance full sun perennials?
Yarrow, catmint, shasta daisies, rose of sharon and salvia are all low maintenance, full sun perennials! Plant these 5 perennials for a variety of different blooms that can take the heat and also stand a little bit of neglect.
What is A Full Sun Flower That Blooms All Summer?
Zinnias, cosmos, dahlias and roses are the BEST full sun flowers that bloom all summer. All of these flowers bloom into late summer and fall and also make excellent cut flowers. Keep in mind that dead heading properly will keep these flowers blooming.
What Is the Prettiest Perennial That Blooms All Summer?
Dahlias are the prettiest perennials that have a long bloom season. They have big showy flowers and come in many different colors and forms. We keep adding new plants because there are so many varieties to choose from! Dahlias also make excellent cut flowers.
What Does Full Sun Mean?
Typically speaking, full sun is at least 6 hours of light. Some full sun plants need afternoon shade, and some, like sunflowers, can literally take direct all day light. Make sure to research each plant for accurate planting.
We hope you enjoyed this list of full sun flowering plants that will give you a beautiful landscape of colors all through summer and well into fall! Let us know in the comments below what your favorite full sun flower is… and why!
Happy gardening, Jamie
Please note that flowers grow in different hardiness zones. Be sure to check out your specific zone to see what full sun flowers will thrive in your specific area!